A few weeks back I made the shocking revelation around the best games that I'd never actually completed. Which got me thinking about other 'best games' lists. Whereas the previous list was games I was really looking forward to playing, I thought, "what about the games I wasn't really expecting to love"?
Army of Two
Back in the Xbox 360 days, Murr and I were achievement hunters. We'd end up playing a lot of games simple because you could get good Gamerscore from them. This was back when Blockbuster was still around and LoveFilm still offered video game rentals. One game that we ended up playing was Army of Two.
It's not the best game by any stretch of the imagination, but the cooperative shooter was solid enough and was a game the we both enjoyed playing through together. It was over the top silly action with two main characters that were basically stereotypical dude bro types. That being said, it was still an enjoyable experience. I'm sure that it being coop made it that much more fun.
Overwatch
The first time I played Overwatch was on my Xbox One during a free weekend promotion. It was also around the time that I started playing on PC a lot more than console. I dived in to the free weekend to see what all the fuss was about and left feeling thoroughly whelmed. The competitive hero based FPS didn't do it for me.
But me being me I then went on to buy it for PC – I still don't actually know why I did or what influenced my decision. However, 400 odd hours later I have to say that Overwatch captivated me for a long time. It became my go to FPS game when I was just looking to chill out and play some multiplayer on an evening.
Over the passed few years Overwatch has grown and evolved, it has been constantly supported with new maps, heroes and timed events. Since it's launch it has changed quite dramatically. Due to that though I think that's why I liked it more and kept playing. The ever changing meta's kept it interesting – although GOATS, was a fairly dark time.
With the recent announcement of Overwatch 2, I'm sure I will continue to play it for years to come.
Risk of Rain 2
Credit for this incredible artwork
Every now and then when playing games with friends – usually fairly late on a weekend evening, we browse steam for new games to play. As a result we usually end up buying totally random games like Hand Simulator. Other times we buy games like Risk of Rain 2 and spend the next hour having our minds melted by the non-stop action and through the roof intensity that the game offers.
I'd heard of Risk of Rain, I knew that it was a highly rated game, but I didn't know a lot about the sequel. Buying it was a gamble but one that really paid off.
Risk of Rain 2 is fast, intense and unique. Each time you play it you get a different experience with the vast array of items to pick up. The game gets constantly more difficult whilst you play. It's a joy ride of bullets and metal music and I love it.
Slay the Spire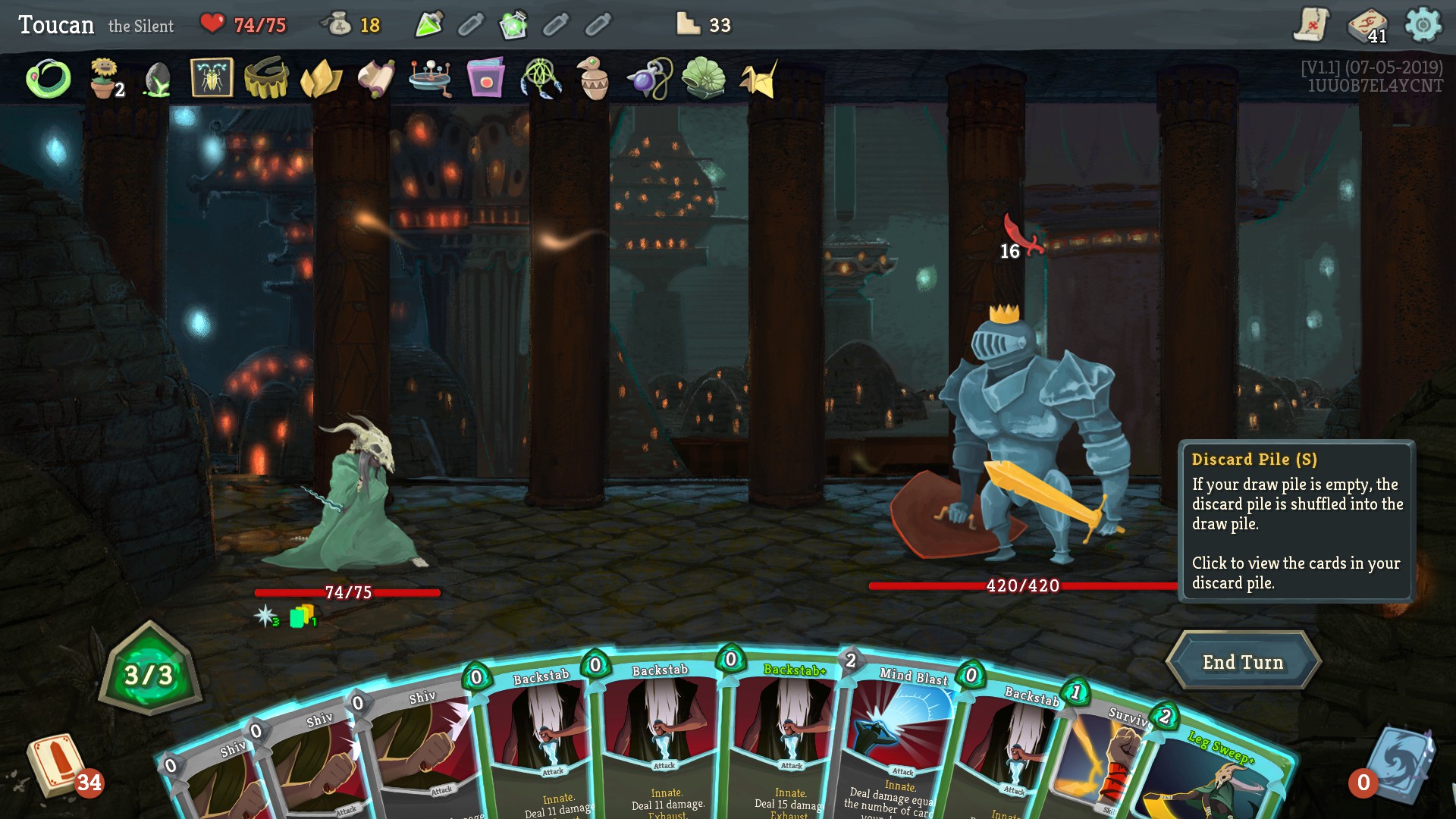 I'd heard some people talking about Slay the Spire on Reddit saying it was great. However, when checking it out I felt like it probably wasn't my kind of game. Then I played Keyforge. A deck building game that created totally unique decks and was loads of fun. Somehow that game convinced me to get Slay the Spire. I think I was after a somewhat digital version of it and thought maybe that could be it.
I'm so very glad that I bought it because it's amazing. Slay the Spire is challenging, it offers unique play through's. There are characters to play with that are totally unique from each other who take time to understand and master their decks. It's a fantastic game that I've still not managed to 'complete' – not for lack of trying.
No matter what I seem to try, I cannot "slay the spire" with the Ironclad class.
Like Risk of Rain 2, Slay the Spire allows for some amazingly unique runs where you might build the best deck you could ever imagine. Slaying enemies in one round, waltzing through the levels. Other times, you could be slogging it out praying for an easy route. It's a wonderful game.
-Will