It might be blue Monday, but we're feeling good after a solid weekend of gaming!
Star Citizen
Recently I've been getting back into playing Star Citizen after the latest updates. The main reason I feel like I've not played it more in the past is partly due to the game's performance. Thankfully, with each patch, it seems to get better and better, and now it runs smoothly most of the time.
I've been trying to get to grips with a few different mission types to get an understanding of what's involved with them and which ones I enjoy. Currently, most missions revolve around either delivery of goods, bounty hunting, or investigating places, and I've been trying out all of them. Delivery missions are nice and easy and give you a decent bit of money. Bounty hunting obviously comes with the risk of getting blown up, but when you get decent at dogfighting it becomes fun. The investigation side of things revolves around either searching for missing people, investigating big satellite things or mining areas – which usually then need you to destroy stuff.
One thing that has never failed to impress me with Star Citizen is its visuals. It feels like every frame could be a wallpaper at times, especially when you're in third person.
TemTem
Over the weekend Humble Bundle hosted a number of stress tests for the upcoming creature collecting game TemTem. I was lucky enough to get some hands-on time and have to say that it's shaping up to be a great title.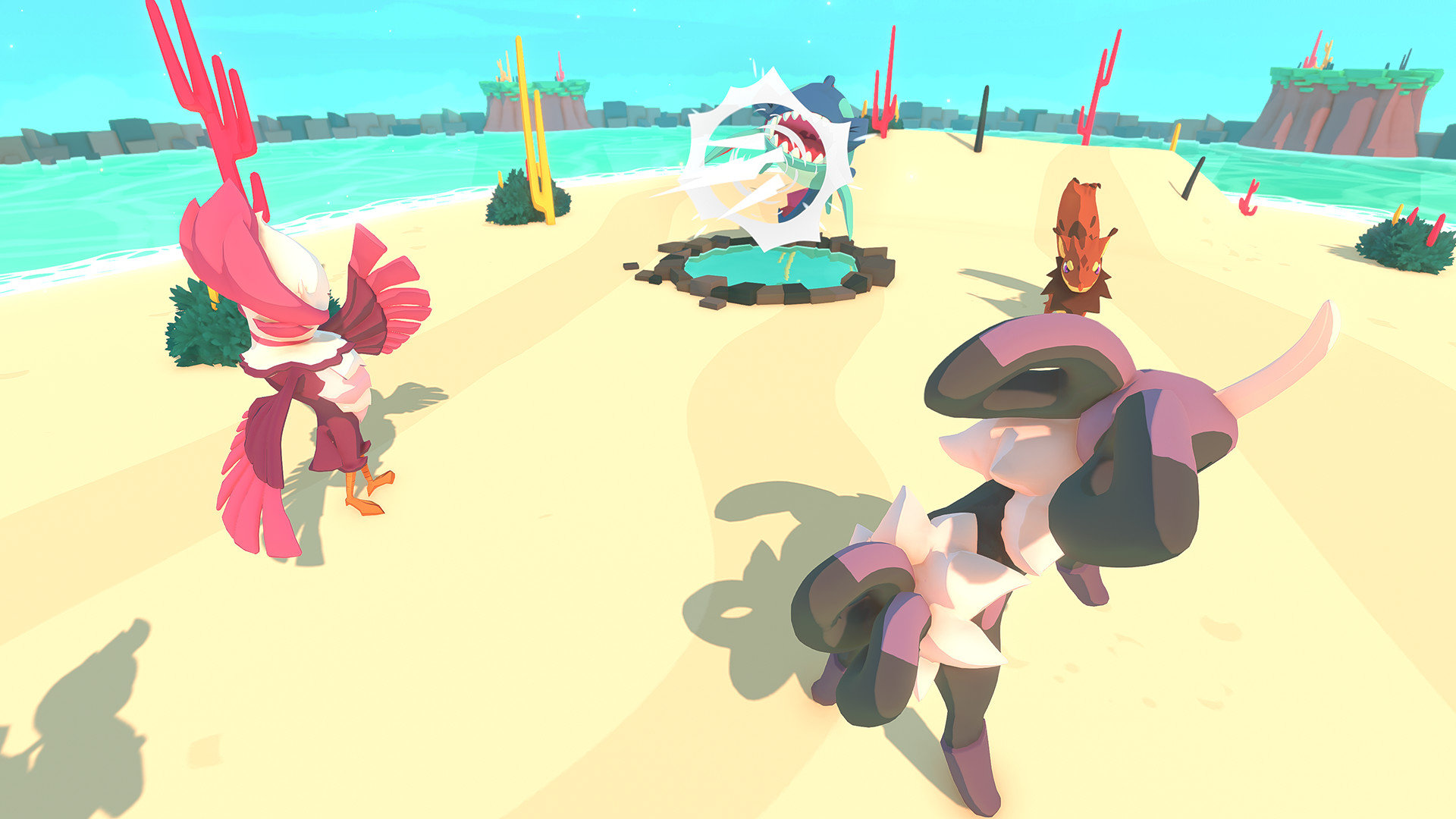 First and foremost, TemTem is very similar to Pokemon in lots of ways, you can't get around that and comparisons will be drawn all over the internet. That being said, it also offers more than the long-standing 'king' of creature collecting. TemTem has a massively multiplayer side to it. When you're roaming around you will see other players doing the same. Additionally, you can play in co-op. Plus you can also fight with other players. Furthermore, you fight two at a time, which changes how the combat plays out. Making for some interesting tactics of which I only scratched the surface of.
The stress tests were a little rocky in terms of connections. I suffered a number of disconnects whilst playing. Ahead of its launch on the 21st Jan, this is something to bear in mind. But I believe it has the potential to be a great game.
-Will
Friday 13th: The Game
Bit of a random one this, It's been out a while and predominately was multiplayer only, so while the premise was good, I wasn't completely sold given my preference for single player experiences. However after the annoucnement of Predator: Hunting Grounds (stay with me) and finding out who the developer was (Illfonic Games) I did the standard Google search about them to see what they developed previously. And there in the games developed was Friday 13th. Since release a single player mode had been made available as well as bots. So, now I'm more interested all thanks to reading about Predator initially.
So, I've not made a huge splash into this yet (Dammit Death Stranding still being addictive despite being completed). But I have done a few rounds with 7 counsellors played as bots on a few of the levels. Fortunately it seems Jason levels up even against bots so I should get some enjoyment out of this.
It's been pretty fun from what I've played so far with only limited execution moves until I level up Jason more. But I enjoy the 'thrill of the chase' if you will tracking down these scared teens hiding in log cabins in some iconic Friday 13th scenarios. You can use environments around you to perform some brutal yet imaginative murders.
All in all, a game I got for Christmas that I bought myself for pretty cheap, and seemingly I'll at least enjoy the bot hunting solo mode. It's just a shame they couldn't develop Jason as a bot and play as one of the counsellors looking to avoid Jason's hunt.
Reviews & Recommendations
Oscar seasons upon us, so that means I go back through a phase of watching old and new Oscar bait films and winners. My latest foray took me into 2 very very good films, one of which I wish I'd watched sooner.
Green Book & Vice
Green Book picked up best film and Mahershala Ali picked up his 2nd best supporting actor Oscar for his role in this oddly feel good film. Set in an era of segregation in the United States, Green Book is about a world class African American musician who tours the deep South states of USA and hires an Italian American and quietly racist bouncer to drive him to his tour stops and offer protection. The 2 end up striking a friendship and the film dives into their friendship on the road with the horrible and sickening racial encounters that Dr Don Shirley faces throughout the tour.
I say feel good as despite the terrible way Don Shirley was treated in scenes, the story building up the unlikely friendship between the 2 is really fun to watch. They are the complete opposite of one another personality wise but you can't help but laugh and enjoy watching them help one another out to see different perspectives on one another's lives. Plus there are some flat out hilarious moments between them. Enjoyed it so much, I watched it twice in 3 nights.
Vice is comedy drama about at Dick Cheney. It takes you from his outlaw days before straightening up for the love of his life to end up becoming the vice president at the time of 9/11 and the aftermath of that event building up to the Iraq war and capture of Saddam Hussein.
Not quite as heartwarming as Green Book, this film explores the behind the scenes political loopholes and less obvious propaganda that got the citizens of United States as well as other world leaders convinced that 2nd Gulf War was required after the events of 9/11 despite the culprit of that event being based in another country altogether. The surprising parts of this film are it was directed by Adam McKay more renowned for his comedic films such as Anchorman & Step Brothers. It's also produced by Brad Pitt and Will Ferrell which I also found pretty bizarre. Another great film however that made me think I hate American politics than I do already and that's a huge leap given who is running the United States currently.

– Murr