Maybe you're the kind of person who has a competitive streak in you and prefers nothing more than dominating game lobbies with your best squadmates. Or maybe, like me, you just enjoy taking on other real people.
We've already outlined some excellent cooperative games that you can play with friends. However, here are some of the best games to play with friends that offer a more competitive experience.
Player Versus Player
Rocket League
Platform(s): Steam, Xbox One, PS4, Nintendo Switch
Price: £14.99 (or included with game pass)
Players: Up to 4 on a team
Honestly, I'd be surprised if you didn't already at least know about Rocket League. That being said, I'm going to recommend it as it's one of those games that's been a constant within our gaming group. Whether we're playing against each other or others around the world, Rocket League has some great fun to be had. Test your skills in private games with friends and add multiple different game modes that allow for various mutators to mix it up. Or test yourself in the competitive ranks against other real players. With a huge skill ceiling, Rocket League can keep you busy for hundreds of hours trying to master it.
Golf with your friends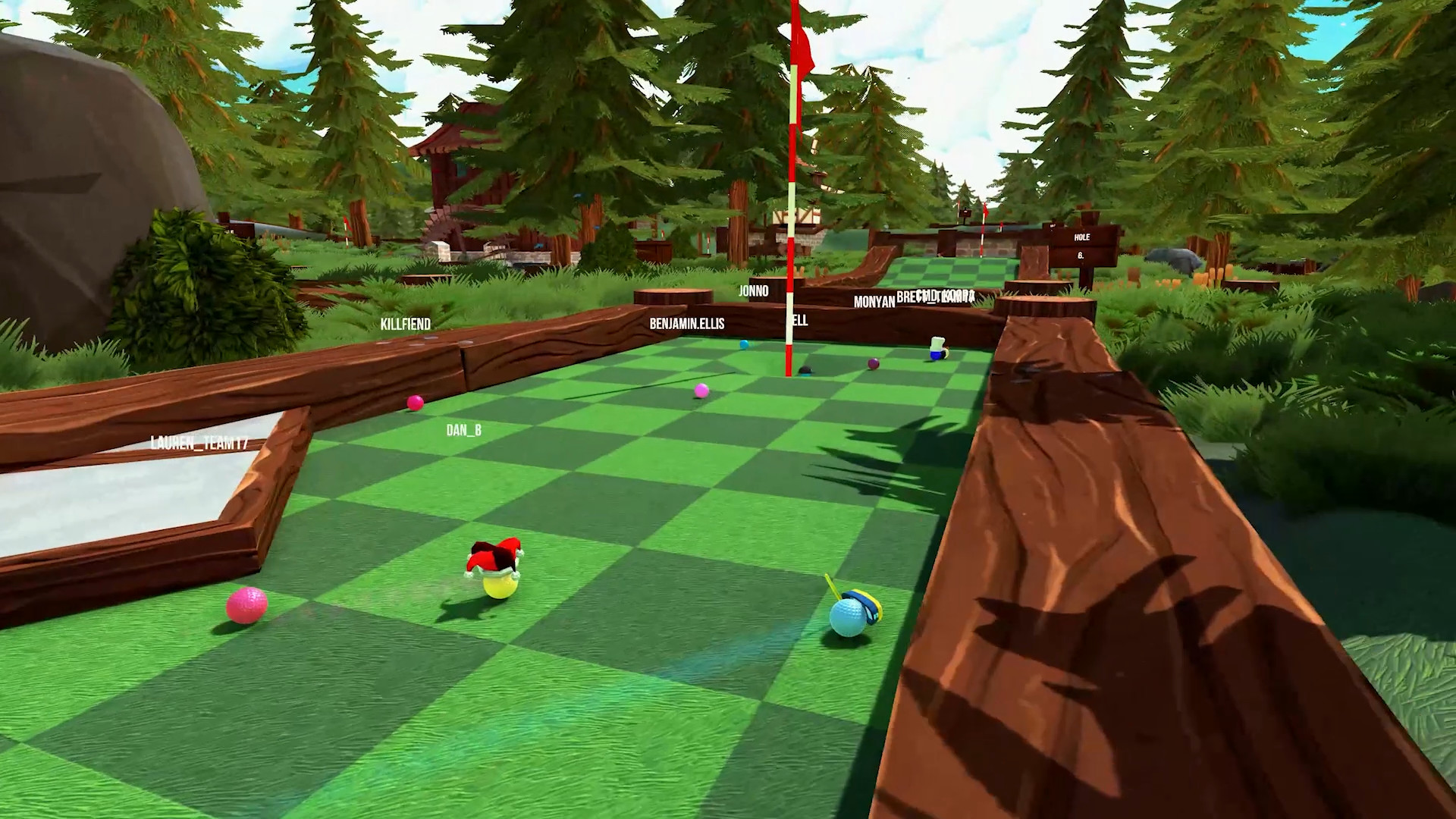 Platform(s): Steam, Xbox One, PS4, Nintendo Switch
Price: £10.99
Players: Up to 12
I bet you didn't expect to see this game mentioned in a PVP list! Golf with your friends is the most hardcore, intense, PVP action game you'll ever experience! Ok, maybe it isn't, but you know what, this game is a lot of fun. It's one of those games that's just easy to sit back and play, have some fun with and just chill out with your mates.
It might not look like the most entertaining of games. But there is a wide variety of stages to play through all with 18 holes. Each zone presents new environments and new challenges.
It's just a good laugh.
Insurgency: Sandstorm
Platform(s): Steam, Xbox One, PS4,
Price: £25.99
Players: 16vs16 (also has coop modes)
Sometimes the AAA games like COD or Battlefield get a little stale. That's where Insurgency can come in to give you something else to try out. Jump in to intense firefights across large urban settings. Utilise some of the best modern military weapons around. Sandstorm is a fairly hardcore game in that the time to kill is quick. That being said, I still think it's a fairly accessible game in that it's easy to pick up and learn. Whilst having a high skill ceiling – similar to how Rocket League is, although polar opposites in gameplay…
There is also a cooperative mode to the game where you can fight your way through objective based maps against enemy AI.
Hell Let Loose
Platform(s): Steam
Price: £24.99
Players: 50 vs 50 – squads of up to 6
World War 2 games are having a bit of a revolution in the last couple of years with a few stellar titles popping up from indie developers. Hell Let Loose is one such title. Take to the battlefield is masterfully recreated maps that span huge spaces. Hell Let Loose might be in early access but it's already a fantastic game that just keeps getting better. If you're looking to scratch that WW2 shooter itch then this is the perfect opportunity to do so. This is a more tactical shooter and therefore it's slower-paced than some of the more well-known titles. Working as a team is an important aspect of this game. Thankfully, there is a great community that's always willing to help.
Take commands of squads or the entire force. With over 14 different roles to take control of there is a massive variation in the gameplay experiences being offered.
It's a game that I've played a fair amount of and if you've been here before you may have seen some of my videos on it, but if not, then go check some out to get a feel for the game.
Squad
Platform(s): Steam
Price: £32.50
Players: 40 vs 40 – squads of up to 9
If you want something a little more modern than Hell Let Loose, that still offers that tactical Mil-sim Esque gameplay, then Squad is what you want. Squad features large scale warfare where you can fly helicopters, drive tanks, APC's, or just go for some good ol' boots on the ground gunning action. The maps are huge allowing for freedom of movement to create great flanking plays.
Fair warning though, there is quite a lot to get used to in Squad. Learning all the mechanics of the game can take some time. However, once you do know what you're doing it can be a truly epic experience.
One more side note, the developers of Squad also made Post Scriptum which is basically a WW2 version of Squad. So check that too.
PVEVP
Sea of Thieves
Platform(s): Steam, Xbox for Windows, Xbox One
Price: £34.99 (or included with game pass)
Players: Up to 4
Whilst Sea of Thieves has a lot of content aimed at playing cooperatively, there is always the threat of other pirates on the horizon. That's why it sits here rather than our coop post. I find Sea of Thieves a unique game in that for the most part it's a fairly relaxing adventure of sailing the seas and hunting down treasure. However, that can all swiftly change when another boat catches you off guard. It then becomes an intense game of cat and mouse as you either try to outmaneuver each other or escape one another. Many are conflicted on the nature of Sea of Thieves and want it to have a PVE mode where no one else can attack you. But I'm glad developers Rare have stuck to their guns because they've made an excellent game.
Escape from Tarkov
Platform(s): Windows (has its own launcher)
Price: £34.99 for Standard Edition
Players: Squad of up to 5
Escape from Tarkov is probably the most challenging game I've played. Every single element of it feels like it's out to screw you over, or just make your life more difficult. That being said, there is nothing else quite like it and it has the most intense and engaging firefights I've ever experienced. This game isn't for everyone, it will punish you and make you feel like everything is not fair. But when it goes right, it is incomparable.
If you want to dive into the world of Tarkov just be ready to die a lot. Be lost most of the time and to have the odds stacked against you.
Hunt: Showdown
Platform(s): Steam, Xbox One, PS4
Price: £35.99 for Standard Edition
Players: Up to 3
In a way Hunt: Showdown is quite similar to Tarkov. That being said, it's much less punishing. Honestly, I don't know why Hunt hasn't gained more traction because the game Crytek have delivered is fantastic.
With an amazing setting of Louisiana swamp land in the late 19th century. It has a real Gothic western vibe to it. There are creatures of unimaginable nature to hunt down, kill and collect bounties on. Furthermore, there are other squads trying to do the same thing.
The gunplay does take a little getting used to with most weapons being single-shot, repeaters, or just slow firing. However, once you get the hang of it, Hunt is an incredibly fun game.
There is a whole world of competitive games out there so it can be hard to narrow it down to just a few. However, these are some of the best games to play with friends that I'd recommend people check out if they're looking for a different experience to the 'norm'.
-Will