I'm still unsure whether Amazon making games was inevitable or is just bizarre. Yet here we are. Over the past week or so I've been getting stuck into their latest foray into the world of video games with the MMORPG New World. With its slick presentation and strong opening, first impressions were fairly strong. However, would that good vibe remain the longer I played?
I put in around 10-12 hours of play time and got to level 18-20 – I can't remember exactly, and I wanted to share some of the good and bad things I noticed from playing.
The World
Aeternum, the Eternal Isle may have been consumed by the so-called corrupted. But it looks pretty damn nice. From the first moments of washing up on shore to visiting your first major settlement, the island looks fantastic. It's also packed full of wildlife both hostile and passive. Enemies lurk in the bushes just off the main roads. It all helps to bring everything to life.
One particular thing that I enjoy about running around the various locations is seeing other players going about their 'life'. Trees a being felled deep in forests. You can hear the distant crack of pickaxes as people mine for stone and iron. There is a buzz of activity everywhere you go that makes the world feel more like a living entity. The towns are packed full of players going about their questing whether and visiting the various crafting stations.
Visually it looks great too. The forests are dense and full of various plant life – most of which can be harvested. The Settlements are full of detail with narrow streets packed full of houses, NPC's and stations to see. All of the crafting stations are well detailed and easily recognisable from afar which helps with navigating. All in all, New World is a fantastic looking game and I can't really fault much in this area.
Questing
As you'd expect being an MMO the majority of quests involve going to areas gathering items and resources or looting crates and killing mobs of enemies. For the most part this is what pretty much all the quests I participated in were.
For each settlement you take on quests in you can gain what is essentially reputation in that area. When you level that rep up you can unlock additional bonuses such as faster XP gains when in that settlements area. It's a nice addition and builds into the whole faction side of the game where a faction can hold ownership of a territory. I didn't spend much time looking into this side of it mainly because it was time-limited access and I felt like any progression with that was a little pointless.
The quests I completed were fine. If you play MMO's and enjoy those fetch quests and clearing out mobs from caves or farms etc… Then you'll feel right at home.
That being said, some work needs to be done to make questing with friends a little better. As of right now, you can obviously do story related quests with friends. But there are also random quests you can pick up from town boards and from your factions. These quests seem to be random for players meaning what quests you see as available could be completely different from what a friend might see. It just makes the experience of playing together a little disjointed. It would be nice to see a way of accepting quests your party could all embark on.
Combat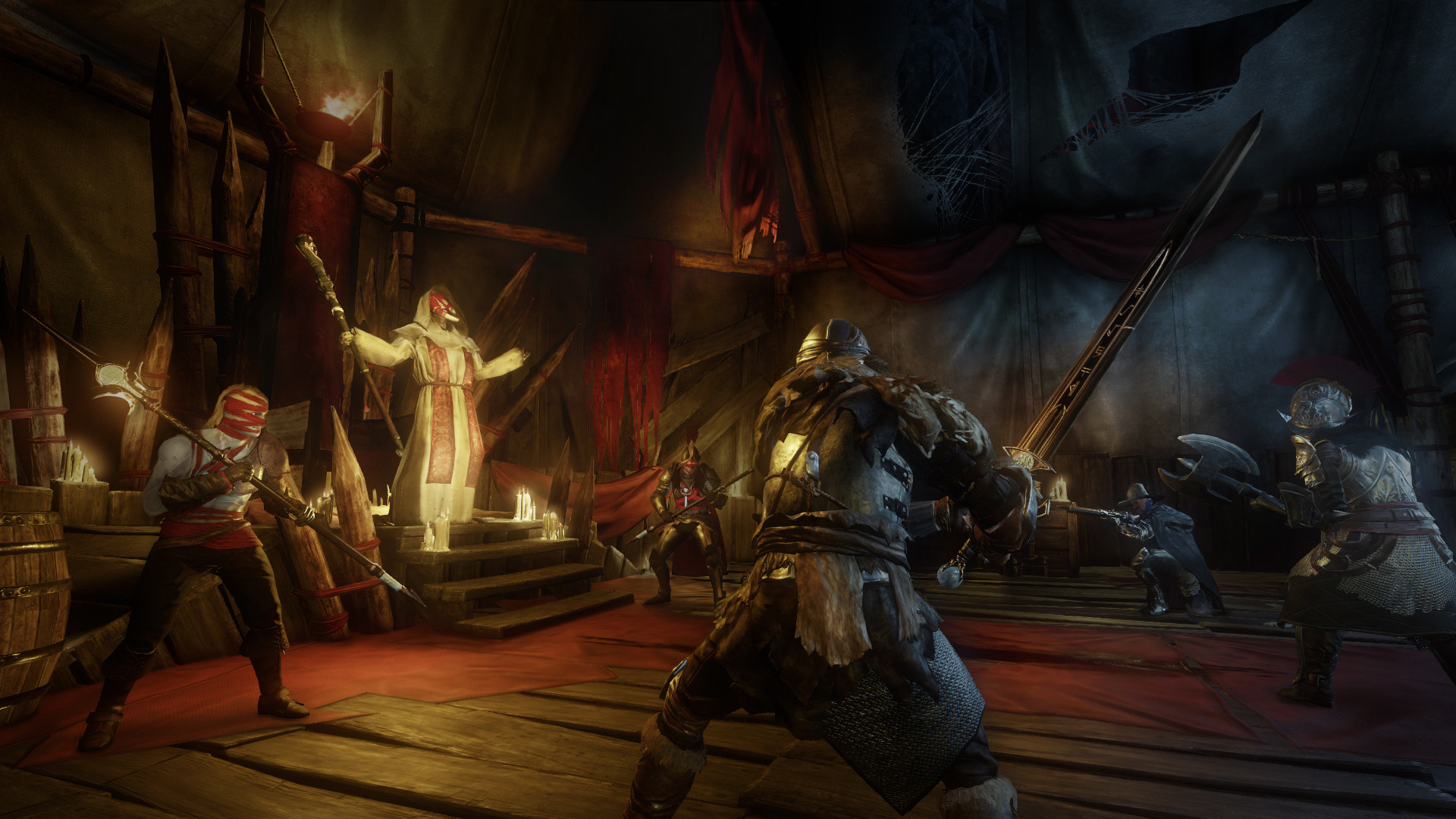 Combat is an area that seems to have really split opinions from what I've seen. There are a few weapon types that you can equip – swords, axes, two-handed hammer, bow, staff, and muskets. Each of these weapons has its own skill tree. Which I think kind of limits builds for players. The skill tree is fairly linear for starters with a handful of main skills being unlockable as alternate attacks and then some more passive focused abilities too. It's honestly not that inspiring and that's coming from me, someone who doesn't really play MMO's. For the more hardcore out there it's going to lack a lot of depth and variation that I think players will look for.
As for the combat itself, I actually didn't mind it and it certainly seems to be geared more towards playing like an action RPG rather than turn-based and assigning actions to a long hot bar. Some issues have certainly been raised – most notable with the axes and essentially stun-locking enemies you're in combat with. That's something that can be fixed and will be.
New Worlds' combat focus definitely seems more casual and aimed at being a little more accessible. Which will work for some and not for others. As I've said, the more hardcore MMO fans will most likely be left wanting.
Another issue is that a lot of the weapons feel a little redundant because of their counterparts just being much more viable. Bows and Muskets aren't that great when you're on your own as once the enemy is close to you, you need to switch. Additionally, the staffs and their magic abilities are a little underwhelming. The sword and shield combo was my go-to for the most part and I never really felt like I needed anything else.
Can it thrive?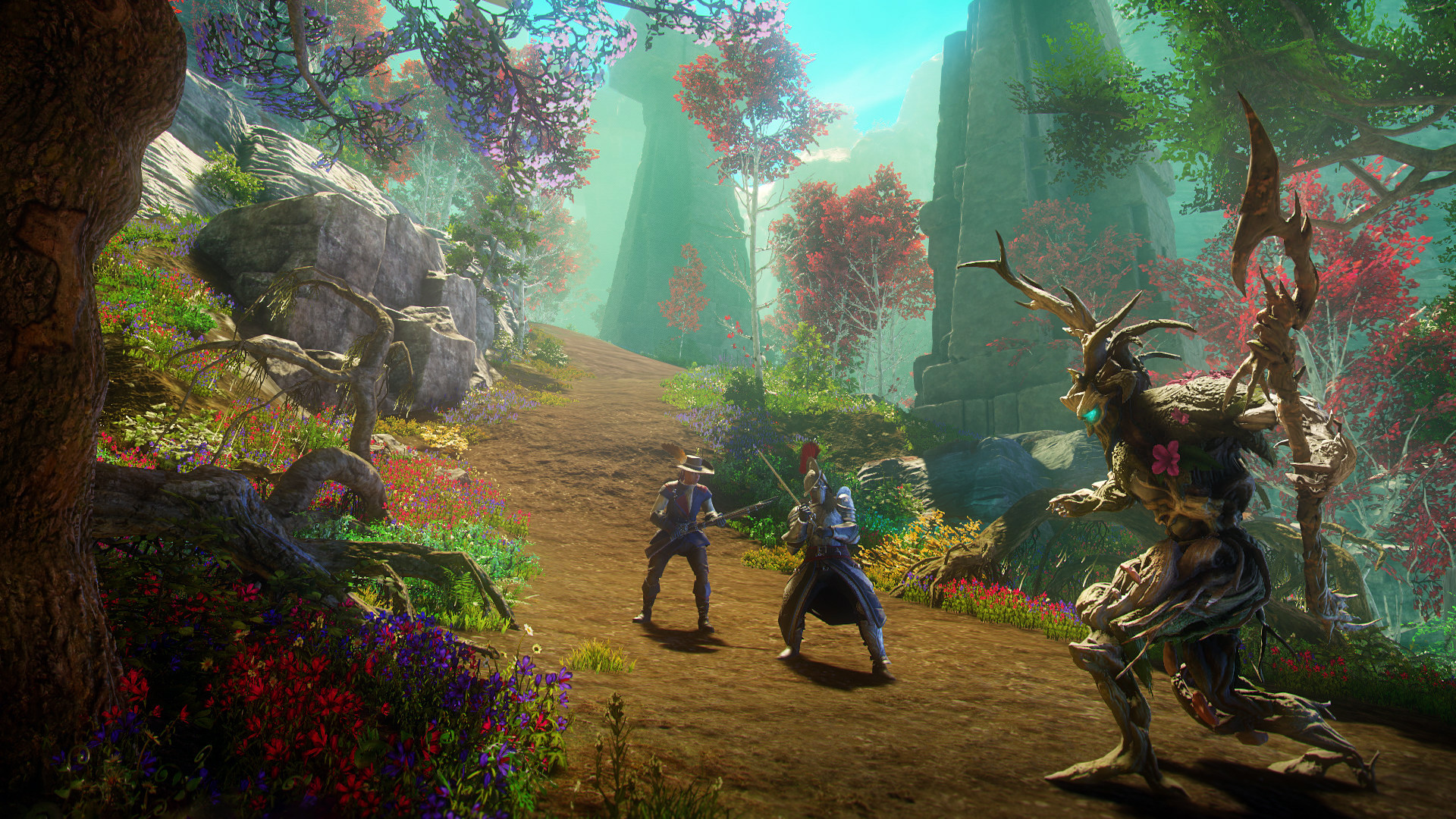 There were a number of other areas to the game that I just didn't really get the time to play. PVP can be enabled at any time and the only real bonus to it seems to be extra XP. I did a little PVP and only died once which seemed to have no negative impact that I noticed.
Resource gathering and crafting play a huge part in the game with a whole heap of different items to farm and mine. The crafting options are plentiful and each requires a fairly decent grind to level up. This will all play into the trading side of the game I'm sure where you will probably see thousands of people grow empires of just trading wood or something like that. Again it was an area that I didn't dive too deeply into apart from crafting items for my own personal gain i.e. potions, food, ammo, etc… However, I did enjoy the gathering and crafting side of things.
New World has a slick presentation and underneath that gloss seems to be a pretty good MMORPG. But like I've already said it will split opinions massively with a more casual audience probably enjoying it more. The end game, from what I've seen, appears quite limited as well.
I enjoyed what I played of New World and I think I'd go back for more when the release comes around. However, there is still a little doubt in my mind.
-Will