Outriders is the next big looter-shooter coming to all major platforms later this year. It's being developed by People Can Fly and published by Square Enix and is shaping up very nicely. I'm pretty optimistic about the game and hoping it will turn out as good as it's looking. But what exactly is Outriders going to be about?
We're going to break down everything we know about Outriders as it nears its release date.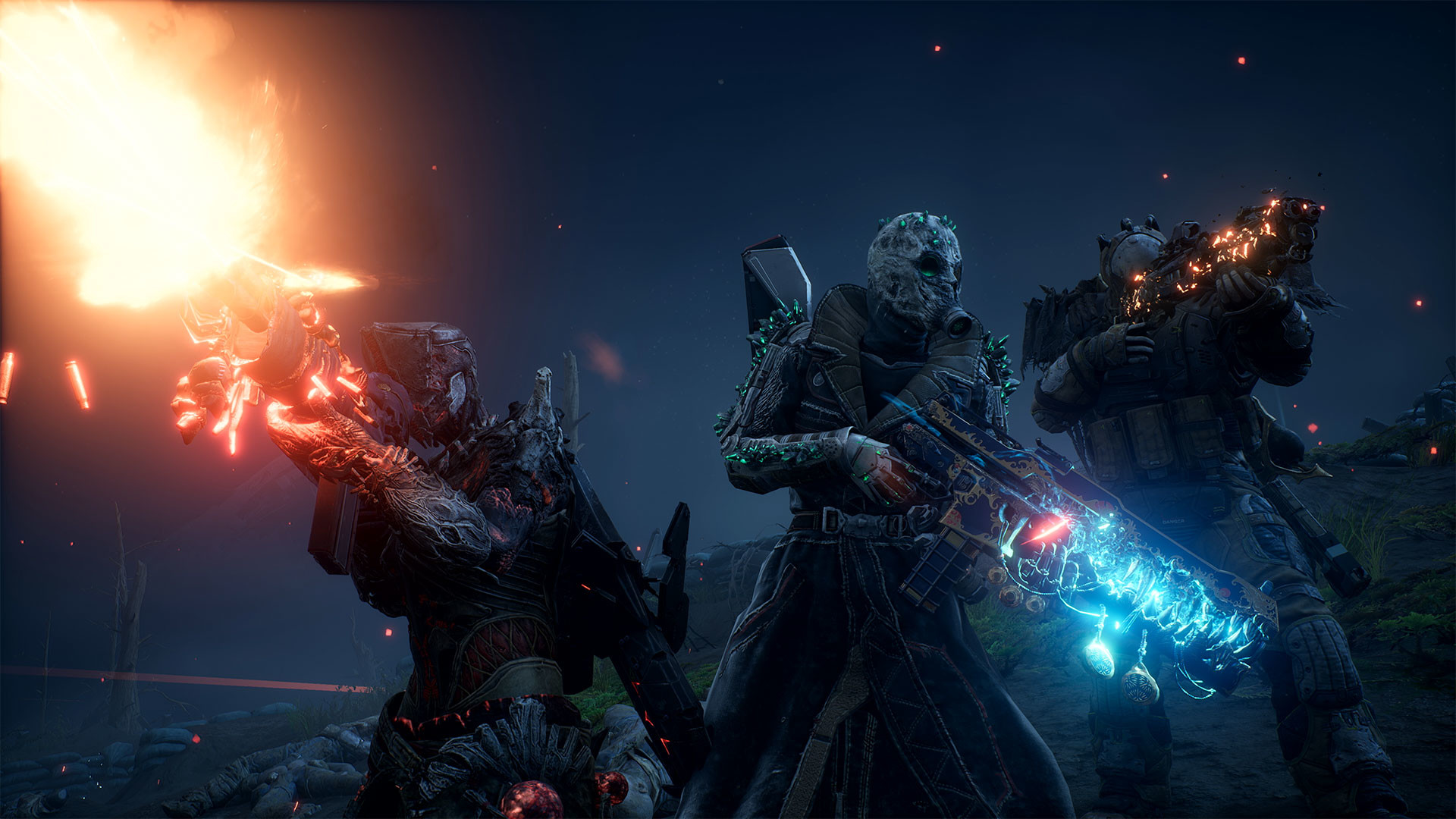 Outriders
Set on the planet of Enoch, Outriders is a 1-3 player drop-in, drop out, co-op third-person looter-shooter/ Action-RPG.
Humanity set to track down the source for something called the Singal on Enoch. When they found it, another sciencey thing was set off dubbed the Anomaly. A huge storm raged across Enoch forcing the Outriders back into Cryosleep. Whilst they slept the creatures of Enoch evolved into fierce creatures. 30 years later the Outriders wake back up and now have some sweet superpowers to kick some alien butt and get some answers on what the Anomaly is.
I'll admit that the story sounds like fairly generic sci-fi "A big bad thing happened which gave us superpowers and now we fight back". Honestly, I don't care, because the setting looks great as does the gameplay.
Release Date
The full game will release on the 1st April 2021.
However, a demo is being released on the 25th of February 2021 letting you try out the first few hours of gameplay. No need to sign up or anything like that to be part of it. It will be an open demo for all.
Platforms
Outriders is releasing on PC via Steam and Epic, PS5, PS4, Xbox One, Xbox Series X, Google Stadia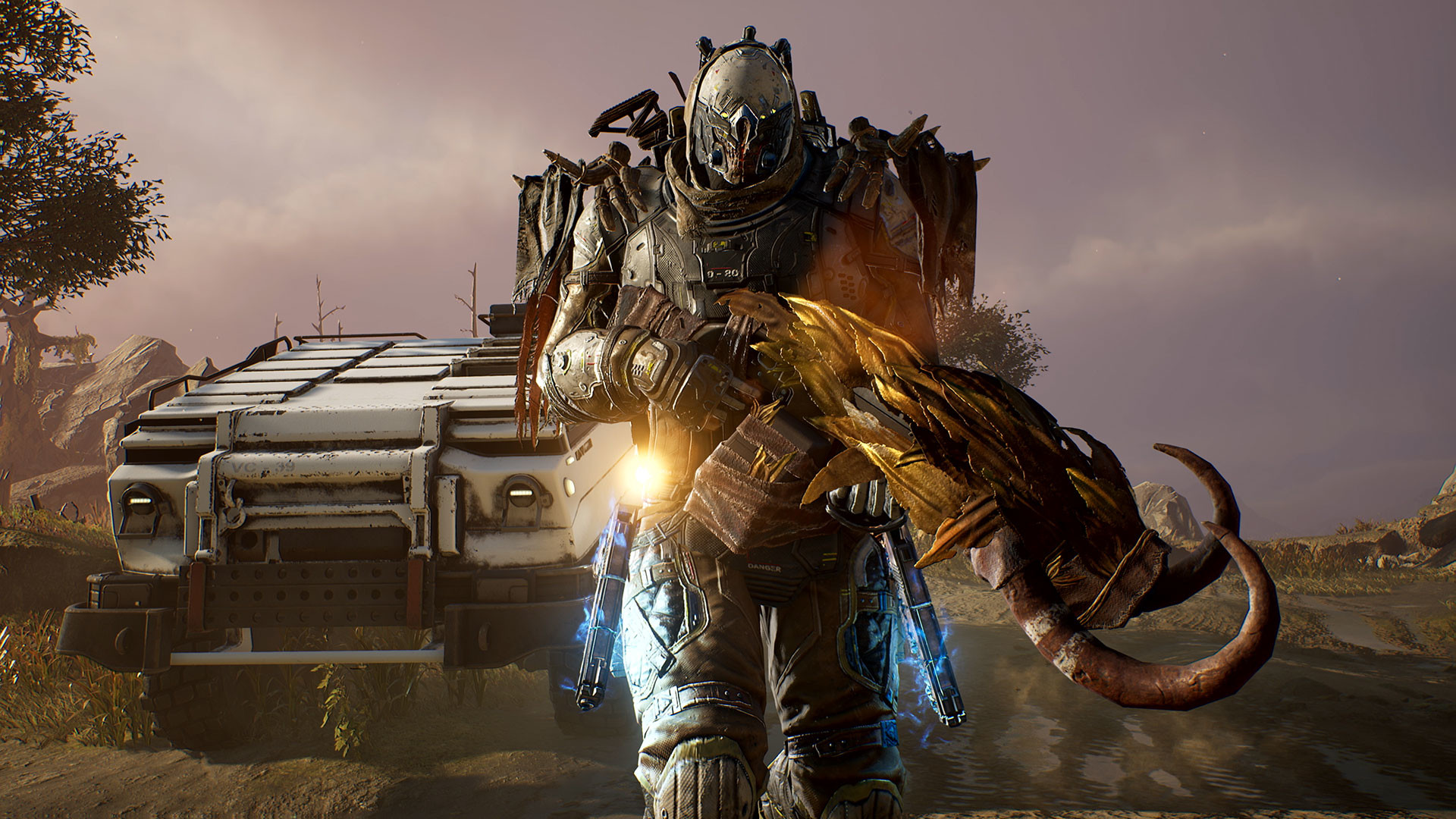 Enoch
Enoch is a planet that has evolved at super speed. The creatures have mutated in to various beasts of different sizes. The planet is full of danger and secrecy.
You will explore a vast array of beautiful and haunting locations from dense forests and barren wastelands to snow covered mountain tops. Small settlements and more sprawling towns have tried to survive the harsh environements. The Anomaly has created some truly alien locations for you to find.
Classes
Outriders feature four unique classes to choose from. Each offers its own way to play with unique abilities and skills to unlock. Each of the four classes features three separate skill trees that allow you to customise your build to the way you want to play. As you level up you will unlock class points to spend on abilities. Whilst you won't be able to fill out the class tree entirely you are free to reset or respec your points for free at any point.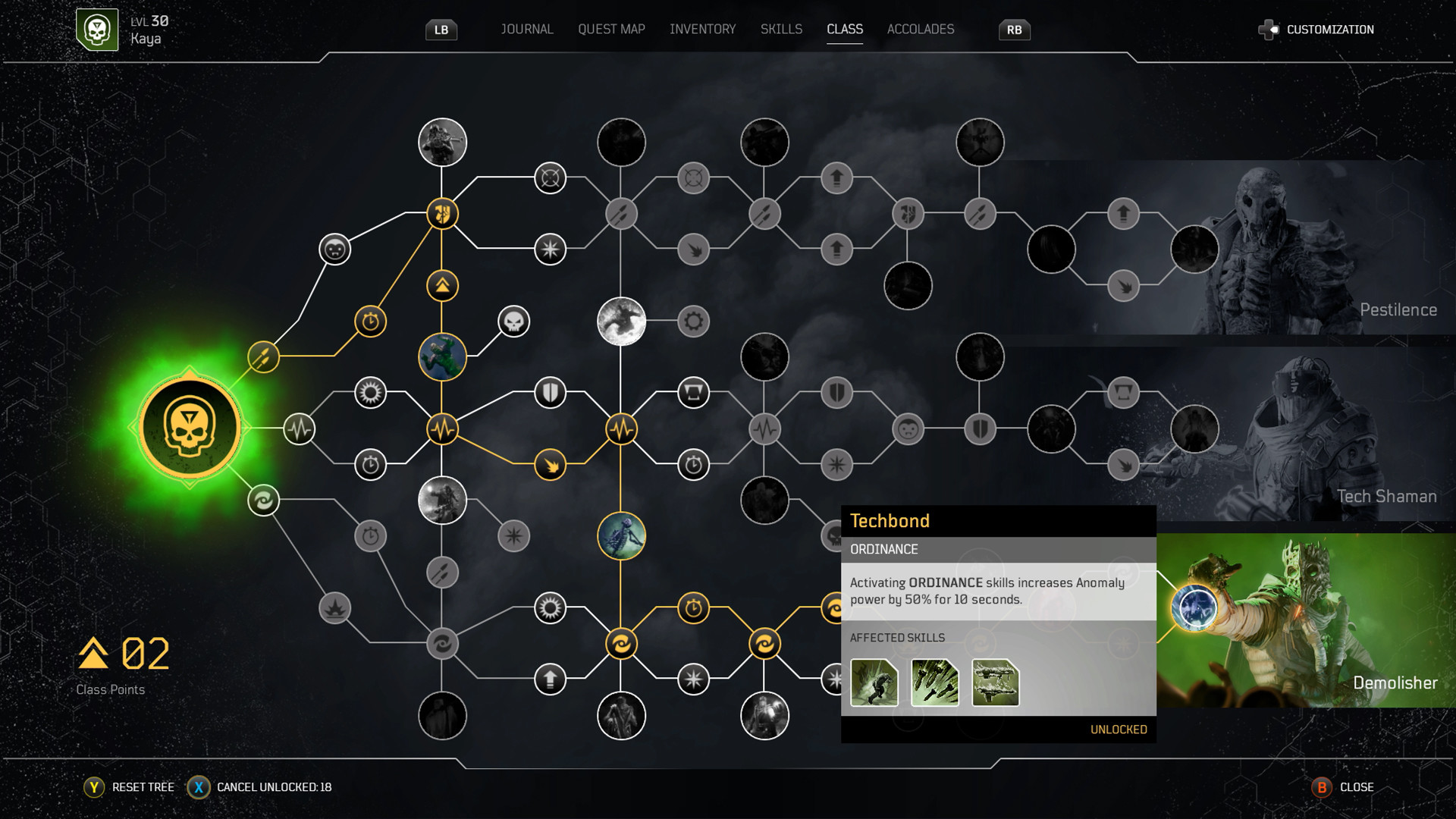 Technomancer
The Technomance is capable of manipulating the Anomaly to conjure constructs and bend the to your will to aid allies and assault enemies from afar.
A laregly versatile class the Technomancer will appeal to the players who pay attention to the flow of combat and who enjoy filling in support roles. Their ability to inflict various status effects, boss inturrpts and healing of allies gives them a vital role of the battlefield to manipulate it in yours and your squads favour.
Technomancers have three main fundamentals attached to their playstyle. Ordinance, Gadgets, and Decay. They can freeze enemies with their melee attacks, set up deadly rocket barrages with deployable turrets, and more.
Technomancer Powers
Each class has eight powers in total and will unlock as you level up. Here are a few of the powers for the Technomancer.
Tool of Destruction – A skill that has alternate modes, this ability lets you wield either a rocket launcher or mini gun dishing out high damage in a short space of time.
Fixing Wave – This is the only skill in the game that can restore health to yourself, allies and your consturcts. Perfect for those support players.
Pain Launcher –
Check out the full class guide in the video below.
Pyromancer
As the name might suggest, the Pyromancer is a class that revolves around conjuring fire. Manipulate fire to devastating effect, the Pyromancer is the perfect choice for those who wish to take on hordes of enemies at a time. With less focus on darting in and out of combat, this class is best at mid-range with various AOE attacks to make use of.
The three main fundamentals of the Pyromancer are Explosive, Imobilise, and Ignite. You will see most of the abilities revolve around blowing things up or setting them on fire, but they will also be useful at controlling areas with their AOE attacks too. Aggression is at the core of the class as you will need to play like this to restore HP. None of this sitting behind cover to restore health or using med-packs.
Dish out firey death and you will heal if your enemy is marked by one of their skills. The more you hit, the more you will heal. It should make them a very interesting class to play.
Now lets check out a few of the Pyromancer's abilities.
Thermal Bomb – Sets enemies on fire dealing damage over time. If they die under the effects of Thermal Bomb they will explode creating a large area of damage.
Heatwave – This ability sets the ground in front of you ablaze in a line dealing instant damage and damage over time to anyone caught in it. Perfect for enemies looking to get within melee range.
Ash Blast – Ash Blast freezes targets in place meaning they can't do anything until the status wears off. A great ability for offense and defense.
Again, you can check out more info in the video below.
Trickster
If being sneaky or using the element of surprise is your kind of thing, then the Trickster might be the one for you. Manipulate time and space to get in and out of combat quickly. They can also be used as a kind of tank role through some of their skills.
The fundamentals for the Trickster are focused on time manipulation and effects with melee attack stunning and slows enemies. Should you find yourself getting low on health don't shy away from the fight, teleport behind the enemy and take them out.
Here are a few of the Tricksters abilities you will unlock.
Temporal Slice – A melee ability that temporarily paralize all enemies hit with the attack.
Borrowed Time – This ability proivdes you with a portion of your health as a shield allowing you to soak up damage before being hurt. It also creates a portal from where you activate it allowing you to teleport back to it when you're done dishing out some damage.
Check out some more abilities and class info in the below video.
Devastator
Finally we have the Devastator class. You might be thinking this class is your typical tank style class, but the Devastotor is also capable of causing huge amounts of damage.
The Devastator is focused around earth and gravitational based powers with the three main fundametals being Proection, Kinetic and Seismic. You can imagine what you might be able to do with those ideas in mind.
Lets take a look at a couple of the powers for the Devastator.
Gravity Leap – Launch into the air and hower in place, find your target and fly towards them smashing into the ground causing big damage that can also inturrpt.
Reflect Bullets – Are you saying that I can dodge bullets? Much like Neo when the time comes you won't have to. Create an invisible shield in front of you that will stop any bullets dead in their tracks. Once the skill ends you will launch the bullets back at your enemies.
Endless Mass – Create a spinning obelisk that acts like a black hole sucking enemies towards it. The perfect start to a devastating combo.
Check out some more about the Devastator in this video.
Campaign, World Tiers and End Game
As you might expect with a looter shooter-style game there is a full story campaign to play through, which is said to last around 40 hours and will take you up to the character level cap of 30. Once that is finsihed there are some end game activities for players to grind in search of the best weapons and armour.
One thing to note is that Outriders is being shipped as a complete game with no live service elements to it. No season pass, no additional end game content to ship 3 months later. It will all be available as one package from day one. Personally, I really like this move, I'm tired of games shoving season passes in at every oppourtunity. That's not to say that DLC might come somewhere down the line though. I'm sure if it's a success they will want to expand on the game.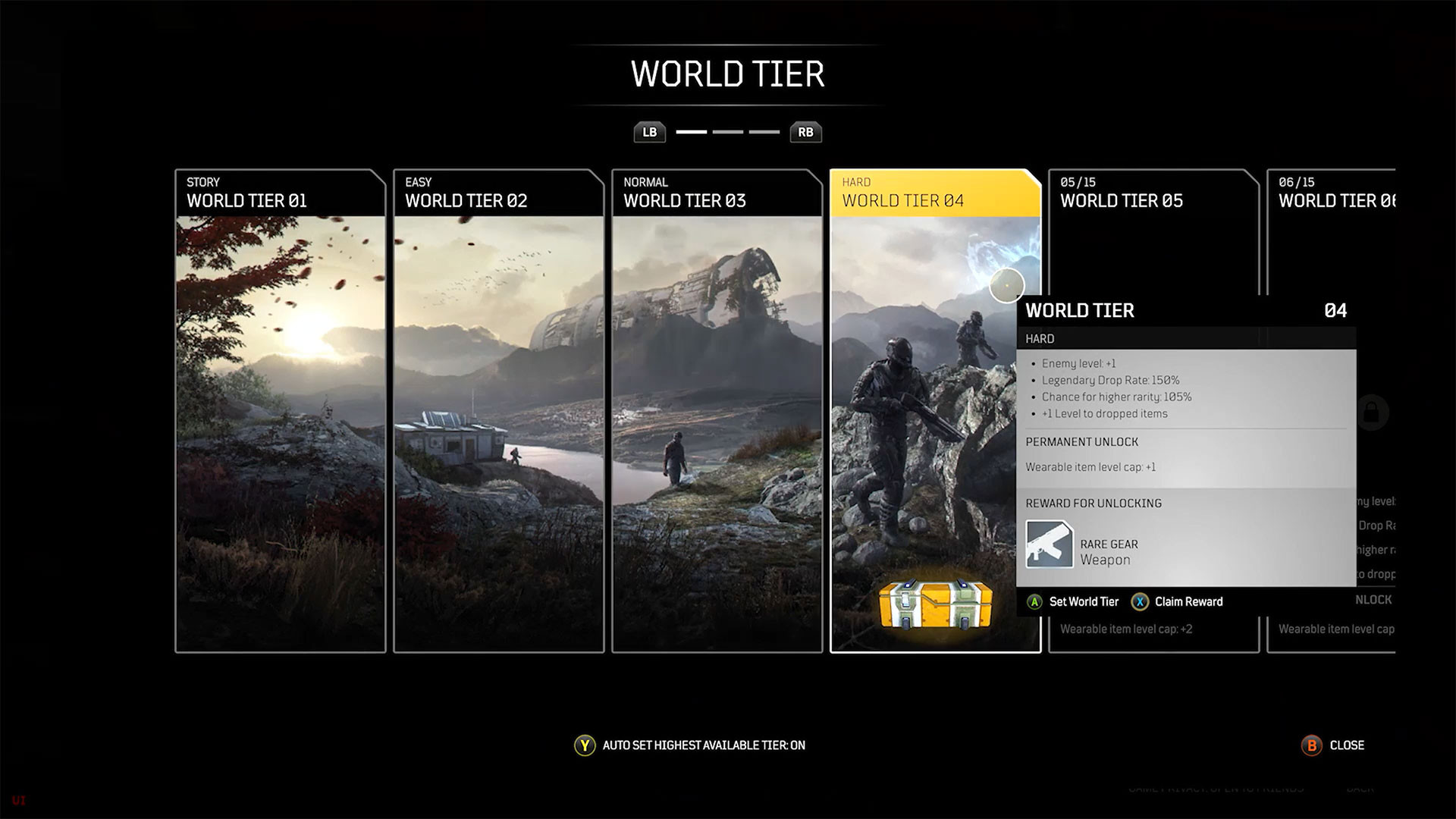 End Game & World Tiers
So what is the End Game for Outriders? Once you've finished the main campaign you will find yourself at a new camp with a new map offering missions you haven't seen before. These are called Expeditions. One important note about Expeditions is that they won't be recycled levels, they are big, brand new missions with new mechanics that will feel fresh to players. During Expeditions, you will be able to earn loot over your character level cap of 30 all the way up to 50 depending on the difficulty you choose.
For an Expedition, you can set a World Tier difficulty of which there are 15. However, World Tier difficultly can also be set for the campaign. These difficulties will provide you with better chances of higher-tier loot. Additionally, the quicker you complete an Expedition the better your loot drop at the end will be.
In order to unlock higher tiers, you will have to defeat enemies within a high tier. It's a separate XP gain to your character, so completing quests doesn't contribute to world tier XP, but the combat will. If you die you will lose a percentage of your world tier advancement, so don't get too cocky.
Gear & Mods
Let's be honest, the main reason we play looter shooters is for the chance of sweet loot. Thankfully, Outriders is looking decked out in that department. You have your obvious rarities of weapons and armour from, common up to legendary as you might expect. Furthermore, there are gear sets that you can collect as well. Meaning that you will be able to find armour sets that compliment your subclasses. Not only that, but weapons will also have perks that can link up well with armour and subclasses. It sounds like there is a lot of depth and builds potential coming to the game which will excite a lot of people.
Building upon that you can also get mods for both weapons and armour that will let you upgrade existing gear by switching out mods you find. General Mods are passive skills that will grant bonuses such as abilities to freeze, bleed and burn these can be applied to almost any weapon or armour you find. Additionally, there are Skill Mods that will be class-specific. These can modify and enhance any of your abilities for your class.
It sounds like there will be a lot to tinker and play with and we've only scratched the surface here.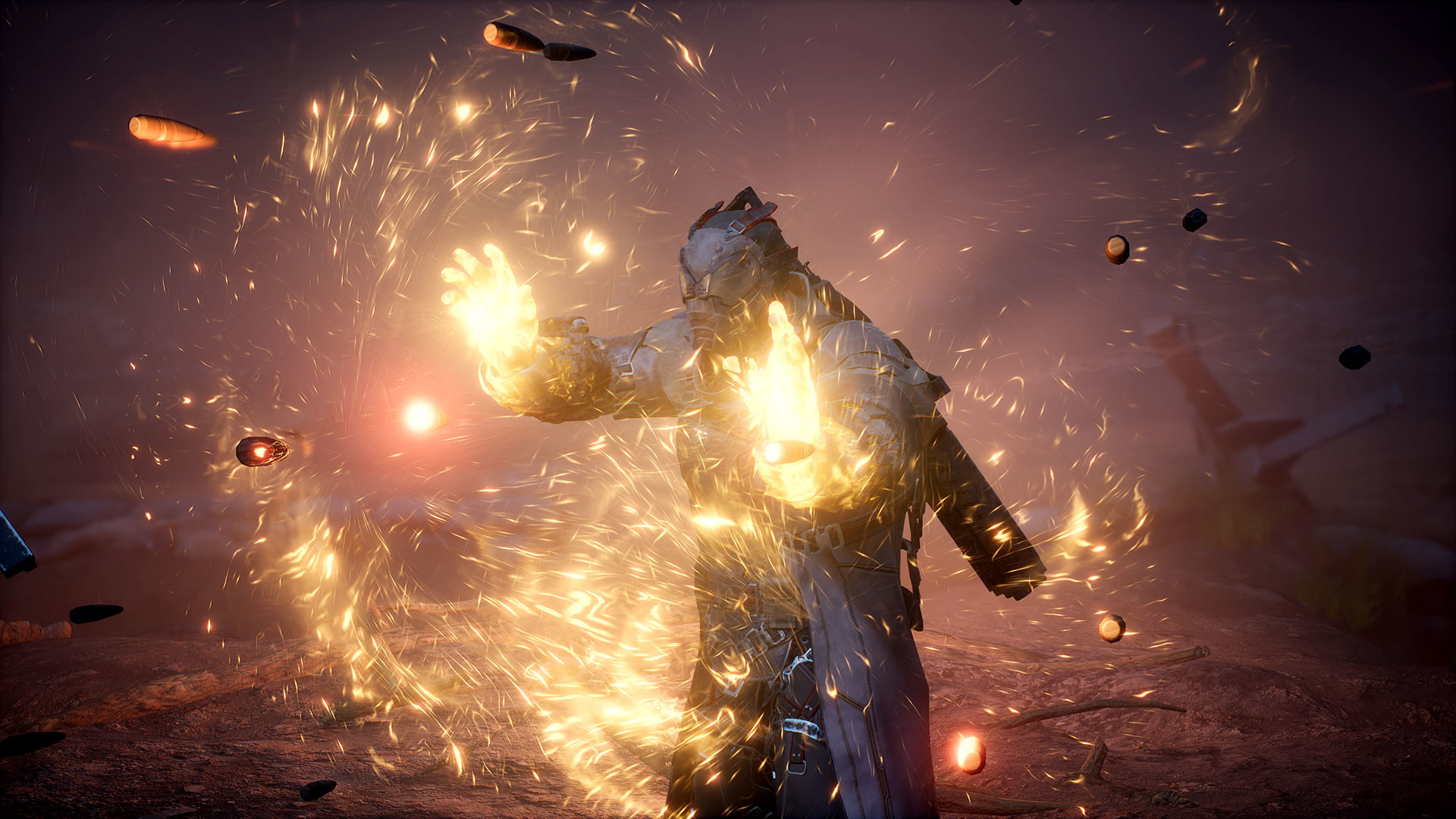 Other Stuff
That covers most of what you can expect in Outriders, but there are a few other things that we thought would be worth mentioning.
The UI can be fully customised to have full HUD or no HUD and anything in between
Full crossplay will be enabled from launch on all platforms
NVIDIA DLSS will be enabled on launch
No subscriptions, no season passes
No PVP, Outriders is a PVE experience only
Well, that's pretty much everything we know about Outriders. It sounds like it's doing a lot of things the right way when it comes to creating an enjoyable looter experience. I for one am really looking forward to trying it out later this month.
-Will