Foretales is the upcoming card adventure game where you will decide the fate of the world – big stakes I think you'll agree. We had the pleasure of asking developers Alkemi some questions about the game.
You can also try the game out right now as part of Steam Next Fest. I strongly suggest you do, becasuse it's very good.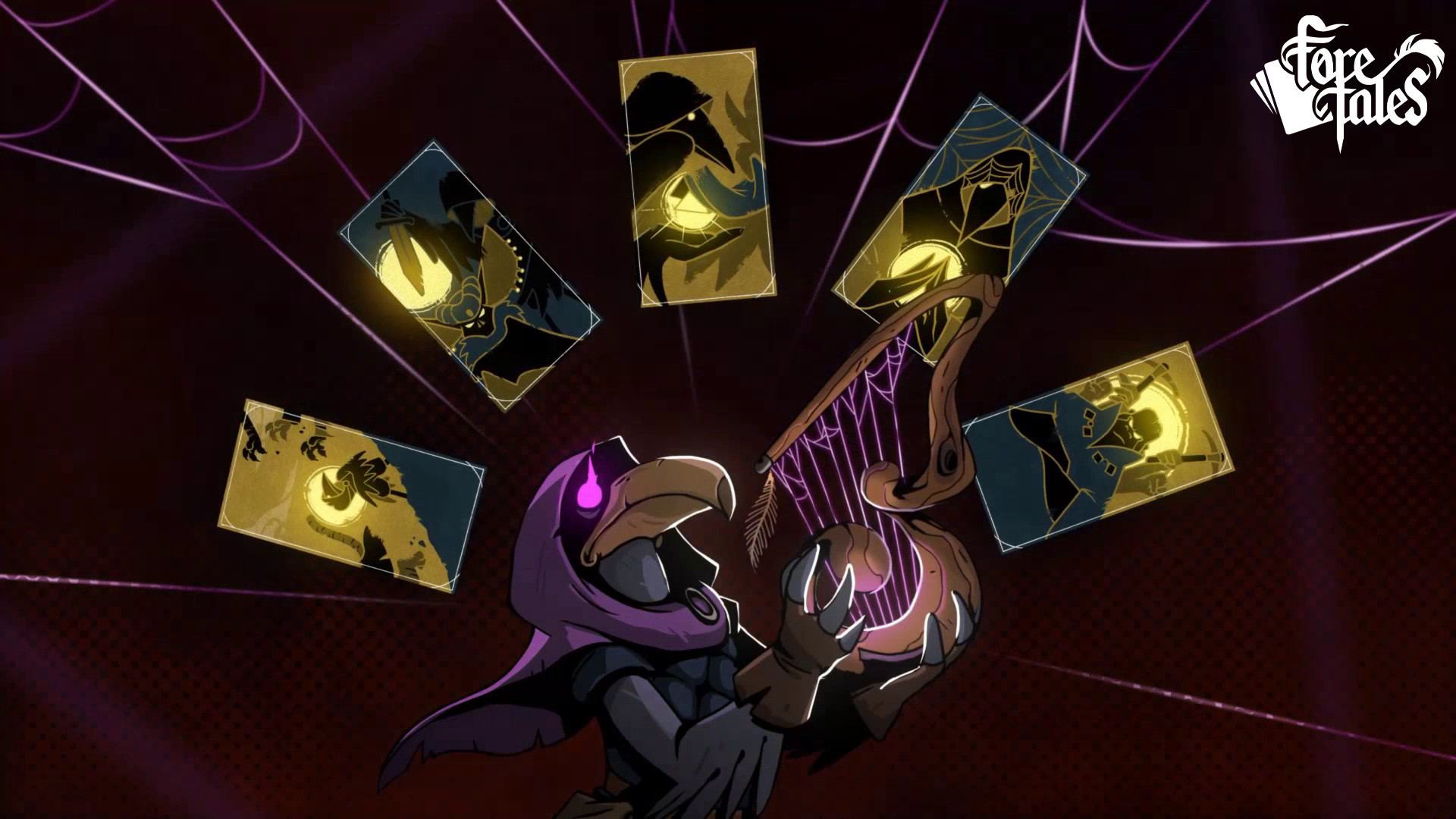 What is Foretales about and what kind of game can we expect to play?
Foretales is a narrative game with cards. It's not your classical roguelike deckbuilding game, it's not a versus TCG either. It's a narrative experience where you also have to play with a few systems, manage a few resources to decide what you want to do, and more importantly HOW you want to do it.
You start with a set of action cards based on your available characters and you play them on the cards presented to you. Effects will wildly vary depending on the combination: you might gain resources, attract pursuers, get hurt, trigger an event or an encounter. But once you've learned what a combination of cards does, it will always be the same throughout the game.
Can you tell us a little more about the character Volepain?
Volepain is a small-time thief caught in a story far greater than him, a story most likely leading to the end of the world. At first glance, there's not much this poor shoebill can do about it. But fate has a weird sense of humour and grants him with visions of the future that might help him make a difference. Volepain is a malleable character, depending on your choices, and your actions, you'll forge more of his personality and attract allies to help him on his quest.
By the way, the shoebill is a real-world bird. If you have never heard an animal sounding like a machine gun, go check videos on the internet!
Unlike many deck-building/card games it seems like combat isn't the only path to explore. Can you talk about bartering, sneaking and fighting and how it will allow for different approaches?
Yes very early on, we decided that the game would not be exclusively combat-oriented. There is a combat system, but it's deliberately not the whole of the game. When you get into a confrontation with other characters, and it will happen a lot, you'll be able to fight and kill… but also to use the other resources you have at your disposal. You can spend some money to bribe them, some of your "grim", the bad reputation of the game to scare them off. Will you give some of your food to poor people to gain fame or keep it to heal your injured adventurers? To obtain those resources, you might have to steal or do some nasty stuff which in turn could attract even more problems… Playing your cards, you write your own story and face the immediate, and less immediate, consequences.
How many different kinds of cards and card types can we expect to see?
The game features something like 150 actions cards and more than 600 locations or encounter cards but it's not necessarily representative of the depth of the game. Some cards are quite generic and used many times in the game, some others are used only once as a support for storytelling. The game is not about making combos of a huge array of powers, it's about using what you have in hand to make sometimes difficult choices.
What sort of choices will we have to make that will cause the story to branch in different directions? How many different endings are there?
The story is built so that you can't do everything or save everyone in time. Some priorities have to be selected, some sacrifices are to be made. And once you have made your choices, you will have to live with them until the conclusion. In one playthrough, you won't be able to discover everything about the game and reach the most desirable ending.
I can't say too much about this specifically because it would be kind of a spoiler but if you like what the game has to offer, you'll be able to dig deeper once you've reached the first conclusion. The game has 6 different endings and let's say that the best one might require some head-scratching.
Were there any specific board games that inspired Foretales?
Yes, board games or physical card games like TIME Stories, The 7th Continent or Pathfinder Adventures were definitely some important inspirations.
Also, I must admit that the game that pushed me into doing Foretales was Cultist Simulator. I was amazed by how this game was taking the card game genre into an entirely new direction and it was a real inspiration.
The art style is fantastic, do you have any particular favourite characters?
My personal favourite is Isabeau, the corrupt politician. Behind her jovial look, she has a really twisted mind and I find her dialogue lines extremely funny. I'm super proud of the work of my 2 illustrator colleagues, Anaïs Lehoux and Pierre-Vincent Cabourg. With our writing partner Garreth Owen, they truly gave life to this cast of animal characters.
I was reminded of Disney's Robin Hood when I first saw the game. Were there any other inspirations that helped you come up with the art direction?
Of course, classic Disneys like Robin Hood were definitely an inspiration, it would be a bit hard to deny! But another important one was Mike Mignola for the black shadows, the darker tone, present in most illustrations of the game.
A huge thankyou to the developers for taking the time to answer our questions. Foretales is coming out this summer and I've played the demo, it's really engaging, fun, and interesting. I can't wait to play the full game.
-Will