Chaotic kitchen endeavors await you in PlateUp as you try to run a restaurant, keeping your customers fed and happy in this hectic co-operative food management party game. Mains, sides, toppings, desserts, and starters will all need prepping as you frantically scramble to keep on top of orders.
Platforms: PC Steam
Players: 1-4
Genres: Co-op, Management Roguelite, Cooking
Developer: It's Happening
Price: £14.99
This product was received for free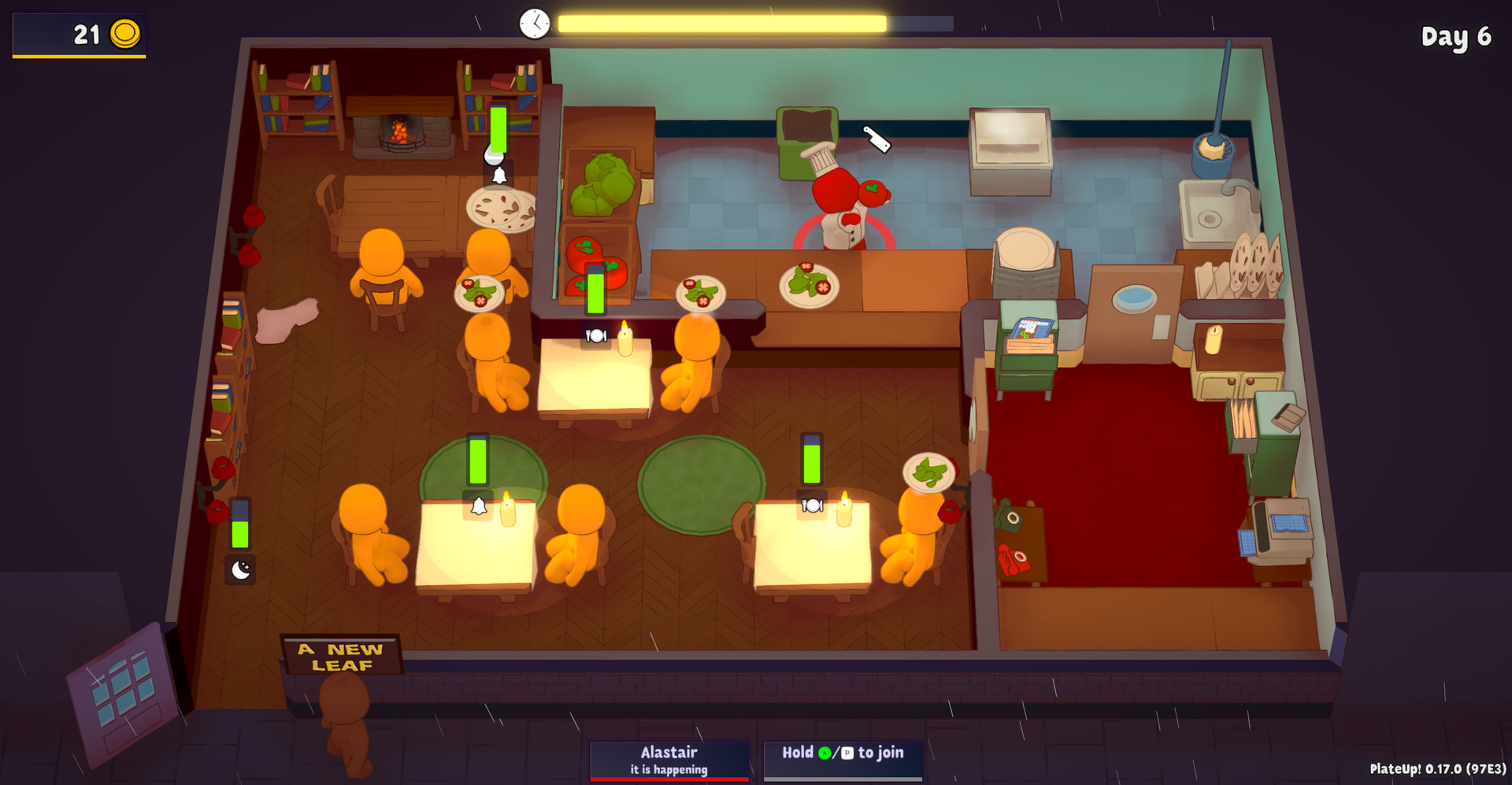 PlateUp Review
You and up to 3 other players can take on the challenge of running a restaurant for 15 hectic days. You'll choose your layout, how many tables you want, what you'll be serving, and more. As you progress through the days you'll unlock new items to either add to your kitchen or restaurant floor. Or you might unlock some useful bonuses like faster movement or increased customer patience.
If you make it through those 15 days you will unlock new franchises to take on with new menus, different layouts of restaurants, more customers, and much much more. But be warned, it quickly gets pretty hectic in the kitchen and on the floor.
At the end of each shift, you will have the opportunity to purchase upgrades and new items. You could install turbo-ovens, and get new sinks for washing up. Or perhaps you just want to spruce up the decor for the customers by buying some artwork or plants.
Keep calm and cook on
Even during the earlier stages of the game things can start to get pretty busy. Keeping on top of taking orders, cooking the food, and delivering to tables takes coordination and good timing to not miss timers, or overcook the food. Additionally, you'll have to contend with mess being created. Not just in the kitchen but out on the restaurant floor as well. Patrons will leave a mess on the floor that will need cleaning. The kitchen will get greasy patches that will slow your characters down. Not only that, but washing up will also cause water to spill meaning you might slip and slide around.
If you don't keep on top of those tasks you will quickly find them hindering you and possibly causing you to miss orders. It's a balancing act that is best shared between friends. Assigning people to specific tasks can be very helpful. But in the thick of it, sometimes those plans go out of the window.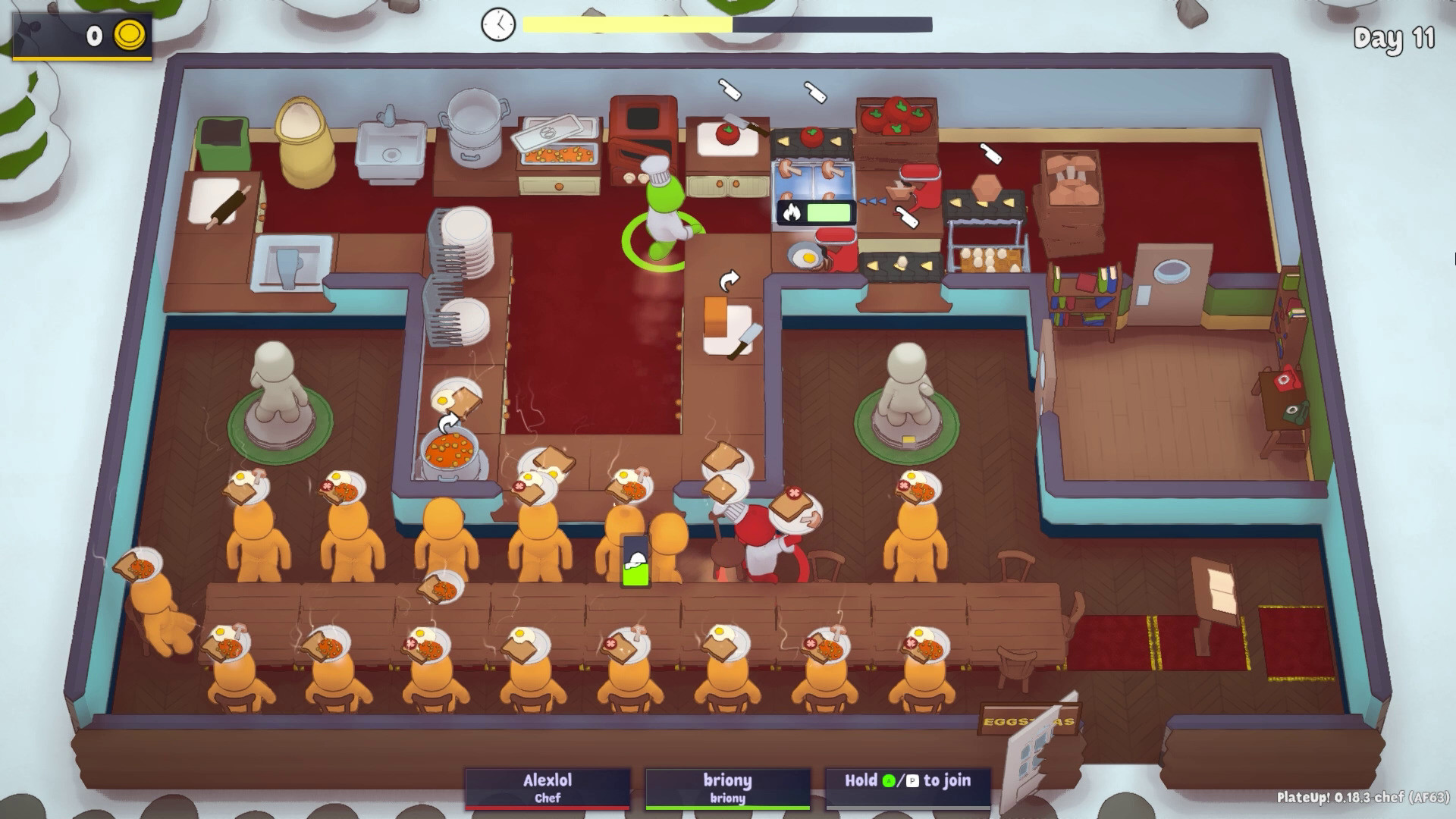 However, that's all part of the fun. PlateUp thrives on the mayhem and is at its best when you're scrambling around in a panic trying to prepare orders before you're out of time. These types of games are the most enjoyable when you're on the verge of failure but just manage to pull through in time.
You'll soon find yourself, shouting and laughing as you overcook a steak or have no space for dirty plates, and the panic sets in.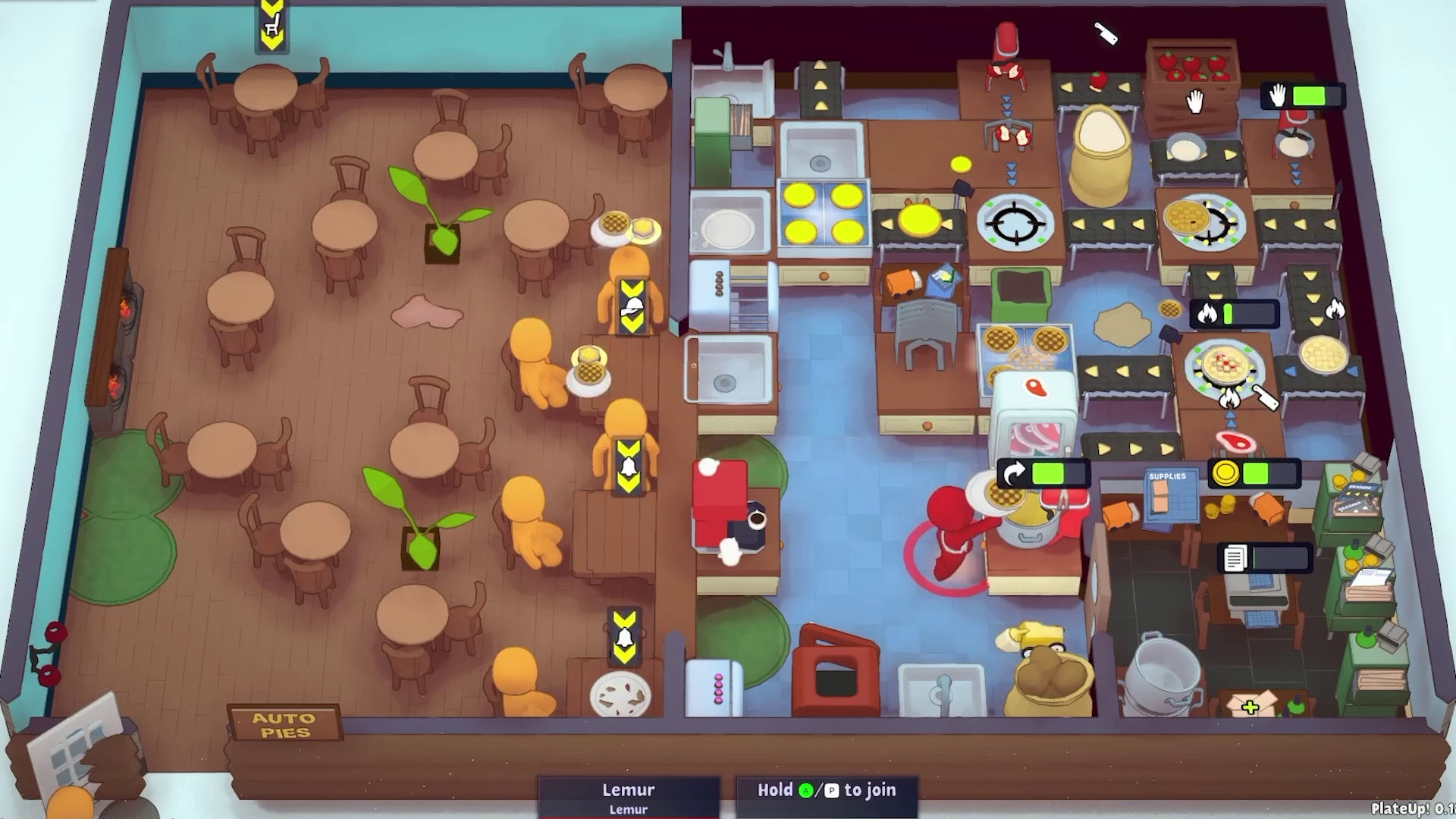 Style it out
PlateUp is a good-looking game. It's not over the top in its presentation, it's not trying to do anything too flashy and it doesn't need to. The game has a cute and colourful minimalist style to it that really works. Oh, and you can name your restaurants too. Which is always a funny thing to do.
It's very easy to compare this to something like Overcooked or other party games like Moving Out. I think it does a good job of competing with them and if you're a fan of those, then you will likely get some good playing time out of PlateUp as well.
The procedurally generated restaurants and randomness from the Roguelite elements of the upgrades help keep the game feeling fresh and fun each time you play it.
With single-player, online co-op, split-screen, and remote play all available. As well as its simple to learn gameplay mechanics. PlateUp is there to be played and enjoyed by everyone.
-Will