Mimimi Games have an excellent track record when it comes to stealth strategy tactics games. Both Desperados 3 and Shadow Tactics: Blade of the Shogun were big hits. Deservedly so, they're fantastic games. It's therefore no surprise to see that their latest offering, Shadow Gambit: The Cursed Crew is shaping up to be another gem.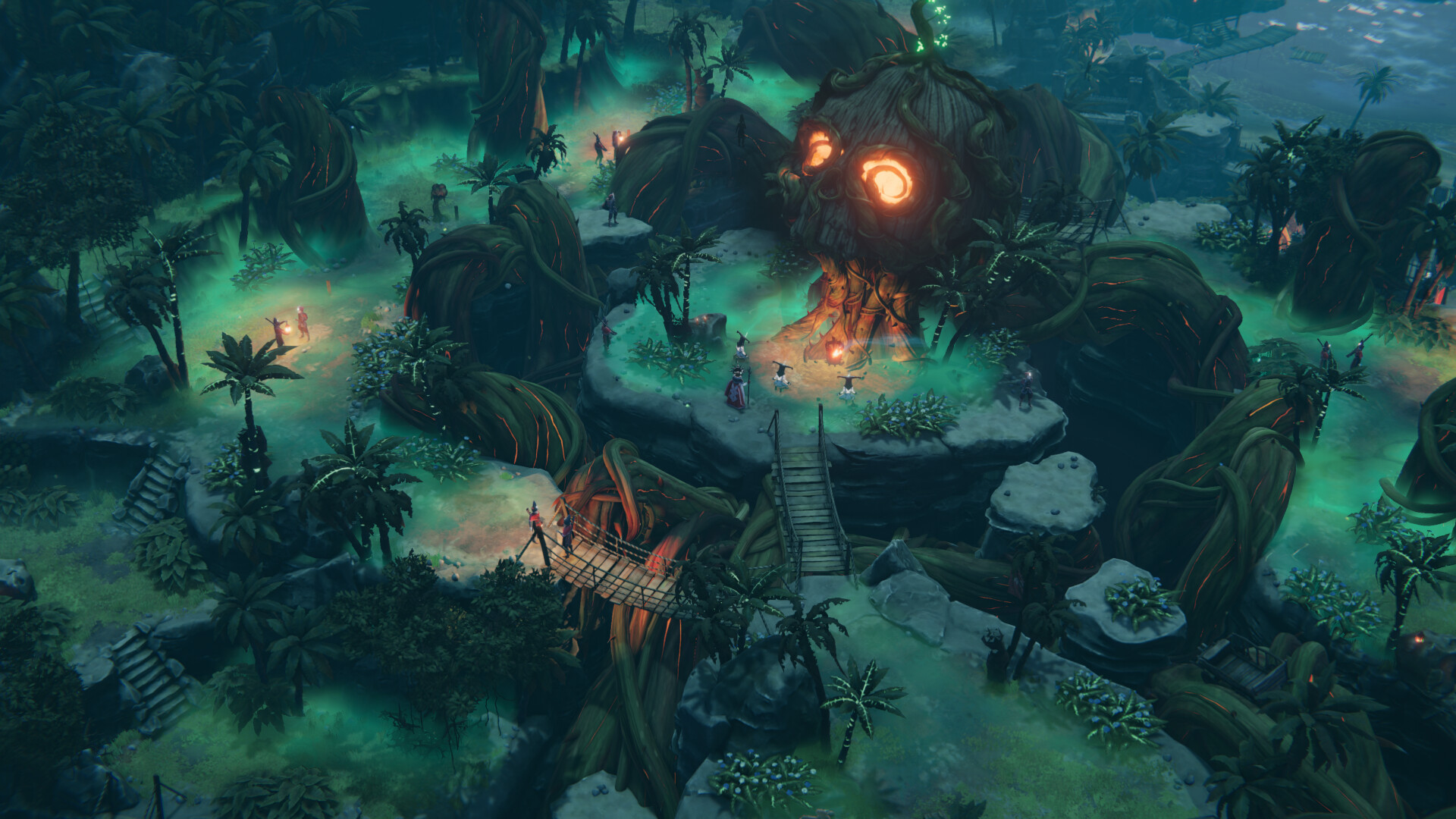 Set Sail
Part Pirates of the Caribbean – with undead and cursed pirates a-plenty, part Sea of Thieves – in the visual styling. Coupled with Mimimi's signature stealthy gameplay. Shadow Gambit: The Cursed Crew is a rip-roaring adventure.
Set in an alternate history of the Golden Age of Piracy. Join the crew of the Red Marely and set out on adventures, hang out with your crew and get to know them better. Or take on training exercises with new crew members to test out their skills.
Choose your mission destinations as you sail the seas and embark on a quest to salvage a mysterious treasure to defy the army of the Inquisition. Sneak behind enemy lines and infiltrate fortresses as you make use of and combine the magical skills of your crew to outwit and overcome your foes.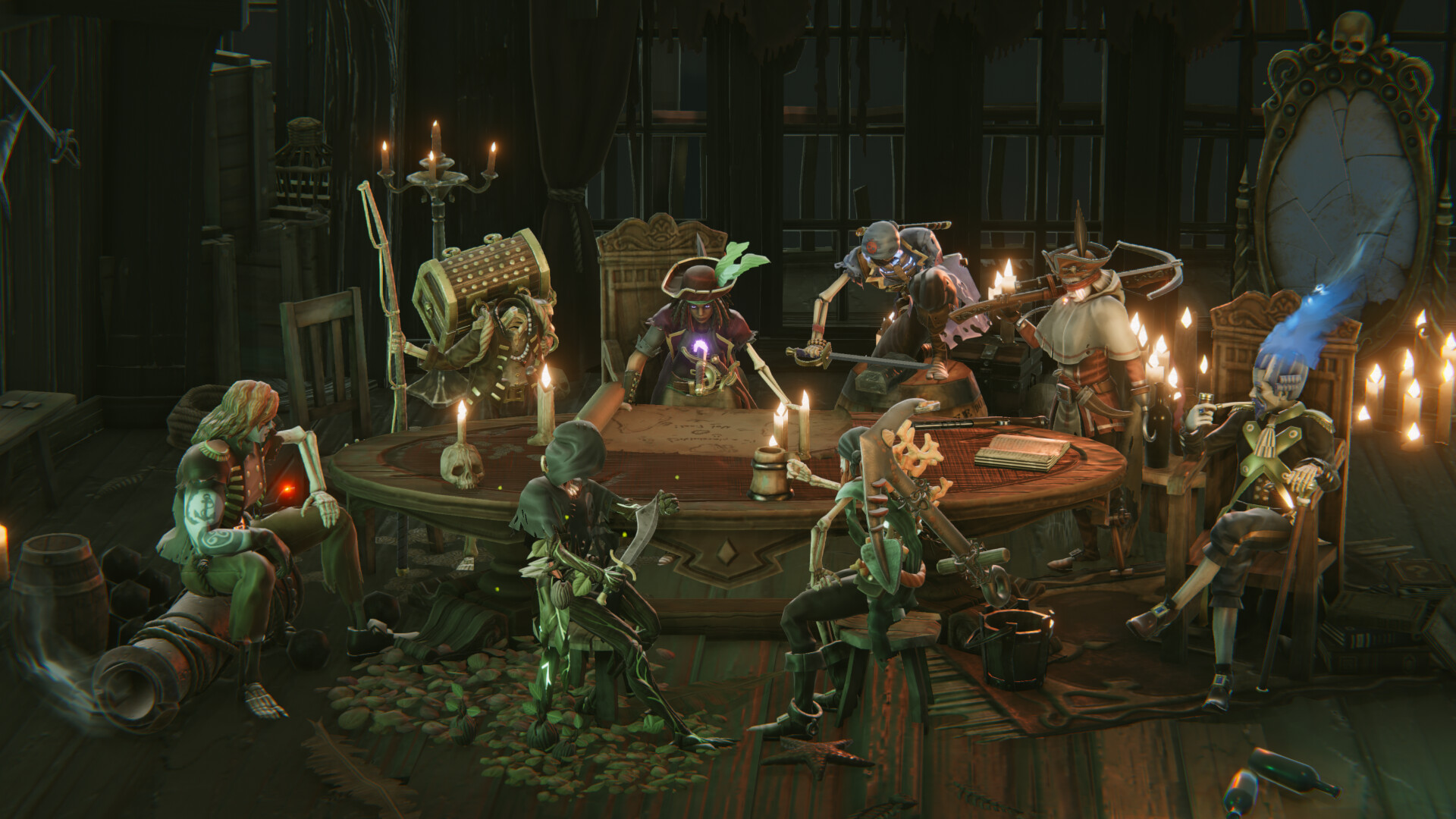 Your Crew
There is a cast of eight crew members to add to your team. Each one, as you might expect, has their own skills that will alter how you approach each situation. With loads of really cool supernatural skills on offer, you won't be short of tactical options. You can create bushes where ever you like to hide in, or to hide bodies in. You can perform teleporting attacks that will let you instantly close distance to an enemy even if they're a floor above you. One guy even has a cannon strapped to his back. Whereas another has a fishing rod that can be used to help clean up the trail of bodies you leave behind.
Mimimi Games have really taken creativity to the next level with Shadow Gambit. It looks like they've had loads of fun coming up with new and interesting skills that not only provide loads of creative ways to take people down. But they also look really good too. The animations for attacks are detailed and unique with loads of cool smokey, shadowy effects.
For your missions, you can freely select whoever you want to take with you. Giving you further options for how to tackle things. Not only that though, but it could also tempt you into replaying missions with different characters to see how much it changes things.
Explore the Caribbean
There is no doubt that this is one great-looking game. The Red Marley acts as your hub for seeing getting around the Caribbean. It's a great-looking ship packed with detail and interesting things to investigate. The environments look fantastic. Full of lush sun-kissed islands, dense fortresses, and towns. From what I've seen so far, there is a good variety of locations to see. Additionally, at night time there is a spooky green glow that hangs close to the ground in many of the locations that sets a perfect atmosphere for your cursed adventuring.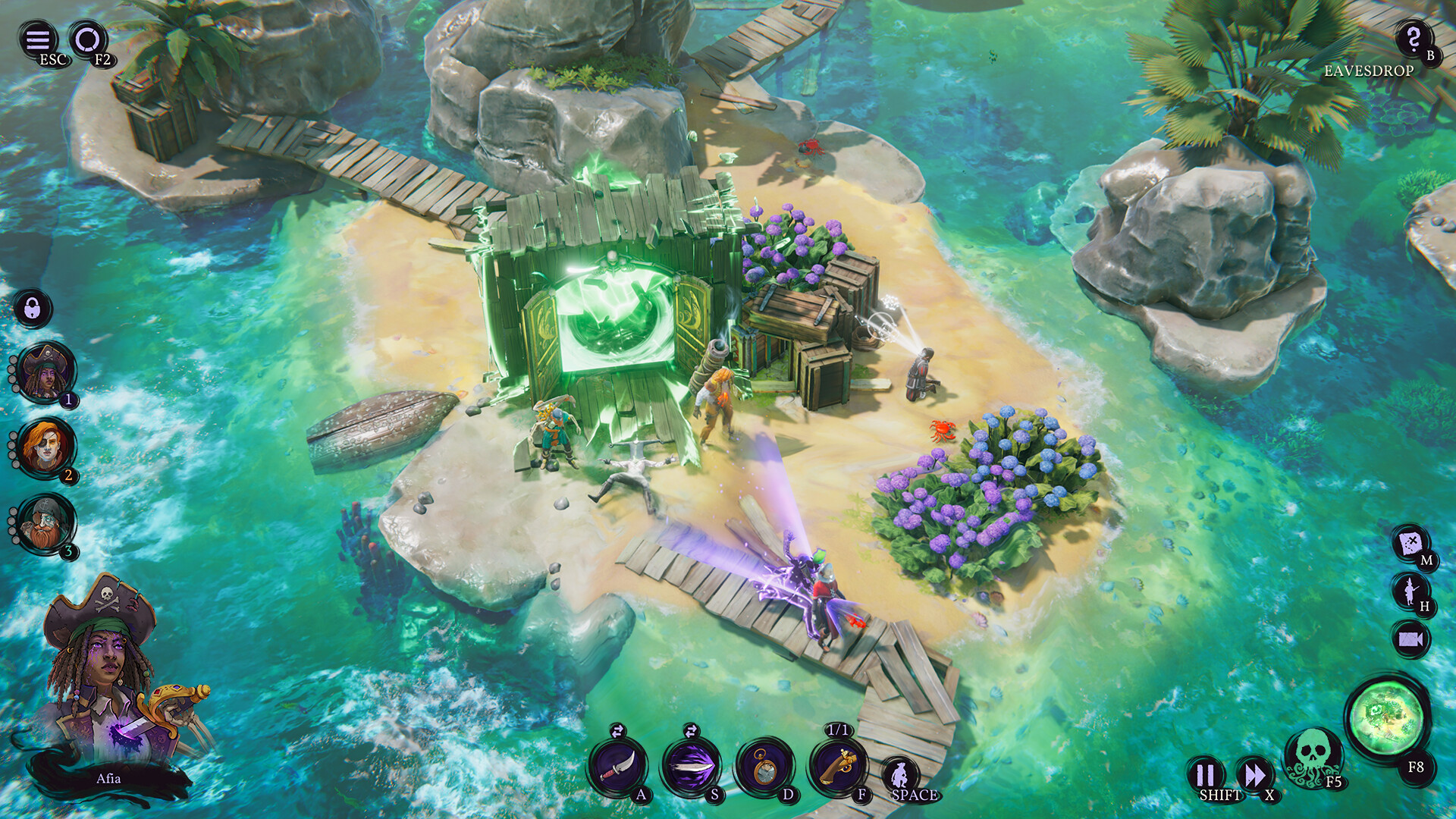 Slam Dunk
With the demo on Steam now as part of Next Fest, you can try it for yourself. Personally, I think this is another small dunk of a game from Mimimi Games. Which, to be honest, I was kind of already expecting from what I'd seen of it and knowing their record. Shadow Gambit: The Cursed Crew ups the ante in every way here. A bigger world to explore where you can choose which missions to do and when. An awesome ship acting as a hub where you can hang out, practice skills, get upgrades, and more. A huge variety of characters with amazingly fun skills to experiment with.
The controls definitely need a little work as by default I found them pretty awkward to use. The arrow keys move you around the map. However, right alt rotate the camera? It's a bit of an odd choice. That being said, I'm sure we will be able to fully remap them on full release. Because I could only remap up and left in the demo… Which was strange. I've no doubt it will be fine however when we can get hands-on with the full game on 17th August 2023. Which I can't wait for!
-Will