The idea of building the theme park of your dreams, unbound by the laws of physics, sounds amazing. Park Beyond allows you to do just that. Defy gravity and build theme parks that all your guests will love. Or tailor your park to attract particular personnel. The sky is practically the limit.
Platforms:  PC Steam, Xbox One Series X&S, PS5
Players: 1
Genres: Management, Simulation, Resource Management
Developer: Limbic Entertainment
Price: £39.99
This product was received for free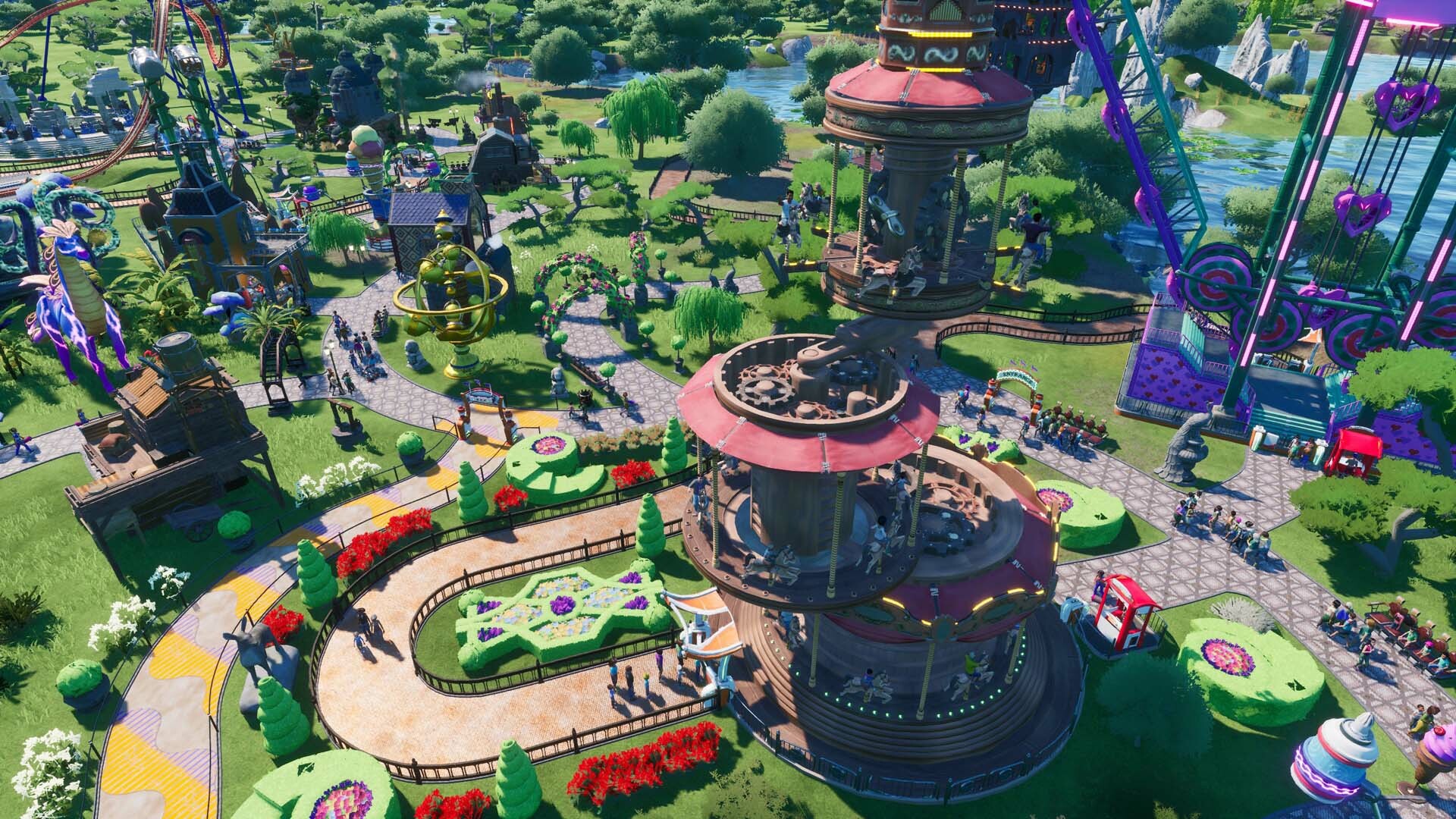 Park Beyond Review
You are a dreamer who just wants to build amazing roller coasters and theme parks. You're offered that dream job and set out on a journey to make your wildest dreams become a reality. Park Beyond is mostly the typical theme park management sim you'd expect it to be. There are profit margins to maintain. Guests to keep happy. All whilst creating something fun and interesting for them to check out.
There is a story of sorts which I'll be honest, I didn't really pay attention to. However, part of that story allows you some creativity on what sort of park you want to create. Allowing you to choose themes such as Western and whether you're aiming your park at Families, teens, or adults. With each favouring different types of rides.
Right from the very moment you start, whether that be the career mode or free building. You can start to create rides with amazing creativity. There are canons that will fire roller coaster karts to different parts of the tracks. Coasters that literally catch fire as your ride-goers spin furiously towards what would be certain death in any other 'world'. Here, however, that doesn't matter. Perhaps it's magic? I don't know.
But what I do know is that it's a tonne of fun to build basic parks as well as get as creative as possible with all sorts of weird and wonderful combinations. The flexibility is fantastic. Additionally, you can add some more flavour to your parks with all the additional decorations available that will help when you're trying to create parks with themes.
Go Wild
Building crazy roller coasters is the best bit of the game and it's a pretty intuitive system for the most part. There are a few fiddly controls that take a little getting used to – mostly when it comes to learning which buttons make the track bank left and right, or what makes it go higher or lower. That being said, You'll be fine once you get into the swing of it. Then you'll be into the best part of the game – creating mad rides.
There is a lot of freedom for what you can create especially when you also start to terraform the land as well. Almost any kind of ride you can imagine is possible. I did notice that there are some clipping issues where parts of rides wouldn't recognise other objects so if you weren't careful with placements things would overlap and be inside one another. This takes away from the immersion a bit. However, if you keep your eye out it's not a huge problem.
Once you're satisfied with a creation you can choose to Impossify them. 'Impossifying' rides and even staff allow you to take your park to the next level by adding extra layers of fun to rides. As well as, making your staff perform even better. Thus helping to boost your park ratings. Opening up more options for upgrades to unlock and even more things to impossify.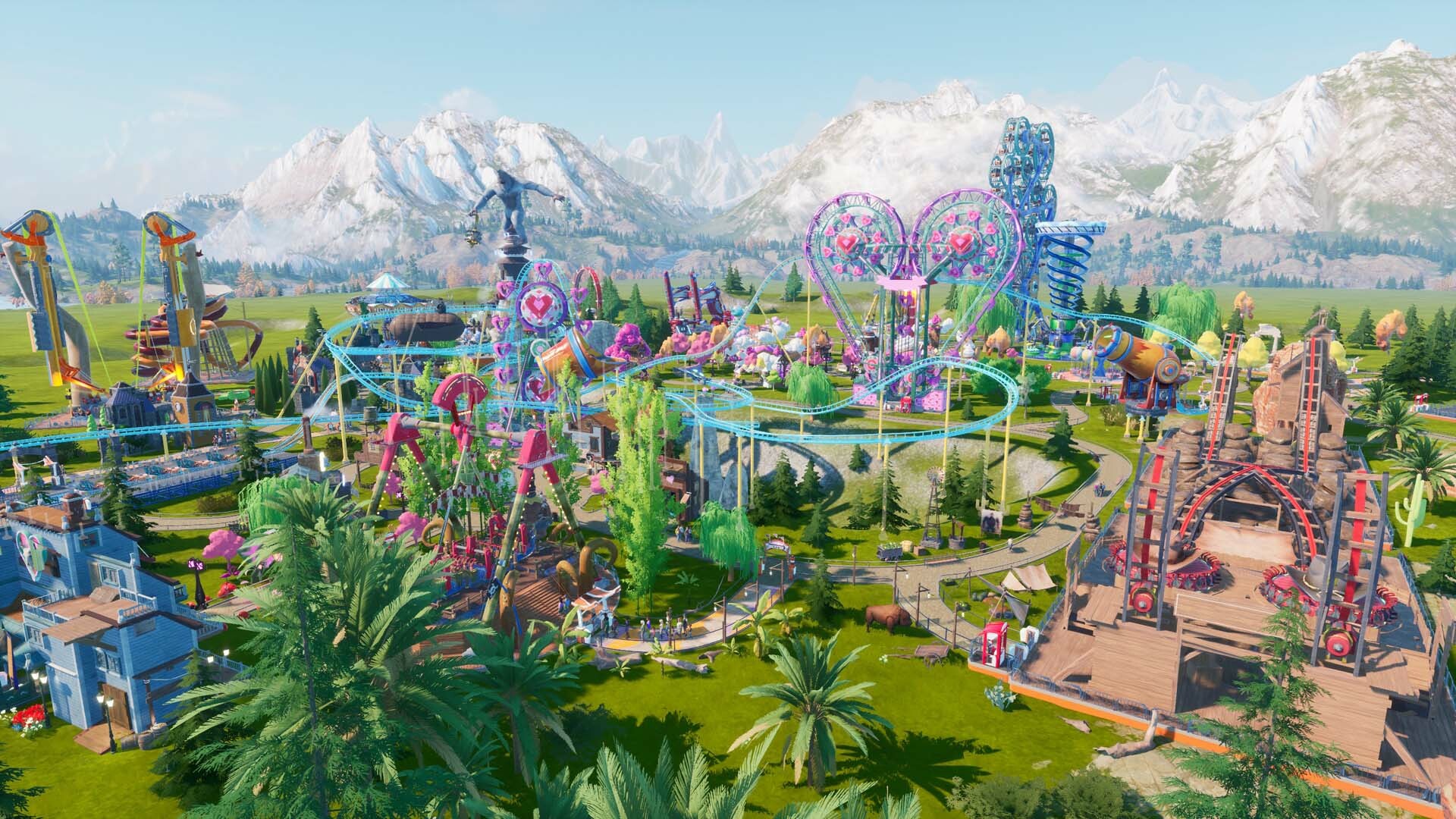 Micro Manage
All of that comes with a cost and maintaining a profitable park will be key to your success and allowing you to build bigger and better things. Thankfully, you can dig pretty deep into the details. All kinds of stats from your guest's happiness, hunger, thirst, and wants are all there to see.
You will have to be careful with what you build, or more importantly what you upgrade as there does seem to be a bit of a balancing issue where certain upgrades will start to cost you way more in upkeep than the money they actually make.
Whilst lots of loving detail has gone into the visual side and the imagination for what you can create it does seem that the management aspects have been left as a bit of an afterthought. There doesn't appear to be much rime or reason to why your park may suddenly start losing money after being successful only moments prior. The wants and needs of guests can at times change rapidly for seemingly no reason meaning that ride that was bringing in the big bucks earlier is now a money pit.
It's a little frustrating and if you're looking for something with a deep focus on management rather than the building part you may find yourself underwhelmed.
A good time building rides
Ultimately the best part of Park Beyond is building coasters. The management parts do let the game down a little bit. I've had a blast creating rides, and seeing how wild they can get. The story isn't important and the management is a little flimsy. BUt overall, it's a good time to build fun theme parks.
-Will