There aren't many games that will immediately catch my attention just from their style. Instantly making me want to play them just based on how they look. OlliOlli World is one of those exceptions. This impressively slick skating game drips with charm and challenge.
Platforms: PC Steam, Nintendo Switch, PS5, PS4, Xbox One, Xbox Series S/X
Players: 1
Genres: Sports, Platformer, Skating, Indie
Developer: Roll7
Price: £24.99
This product was received for free
OlliOlli World Review
The vibrant world of Radlandia is where your skating adventure will be taking place as you embark on a quest to discover the mystical skate gods. Yes, that's right, there are skate gods all chillin' in the land of Gnarvarna.
OlliOlli World introduces you to a cast of colourful characters in a tongue-in-cheek story that's self-aware enough to not take itself too seriously. It's a bit of fun that adds a little something extra to just skating around all the time. During your time in Radlandia you'll be training to become a skate wizard. It's kind of bizarre really but in a good way.
Once you get to skating you'll mostly forget about the story and just enjoy the sublime fluidity to the game's levels.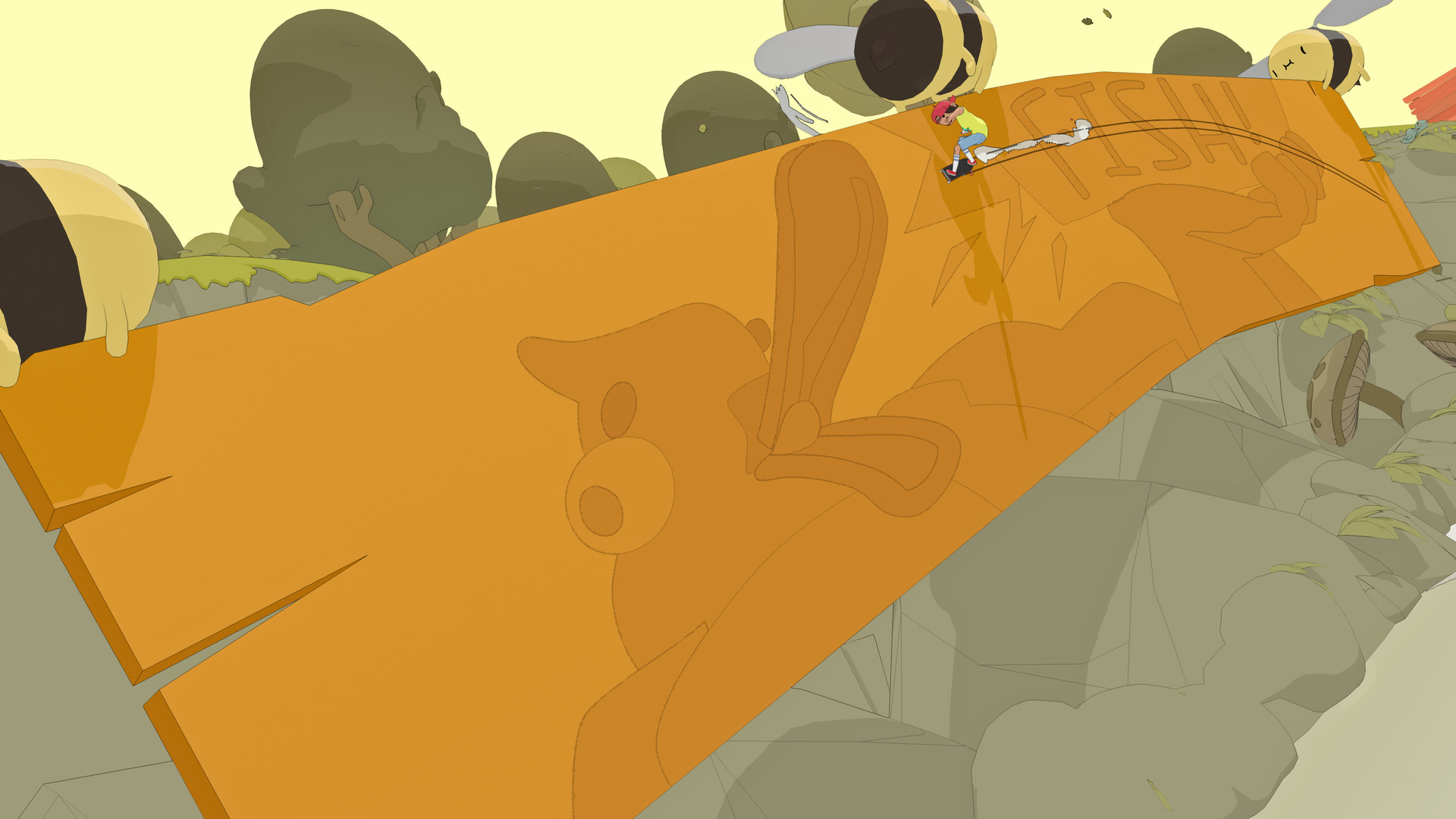 It's tricky, tricky, tricky
Let's be real, we're not here for the story, are we? We want to skate! OlliOlli World is all about momentum, chaining together tricks, grinds, manuals, and all sorts. The smoother your run the more fun you'll have. It's so easy to get going too. With simple controls that are super quick to pick up, you'll be pulling off tricks and chaining them together in no time at all. The hard part is mastering the game, staying on your board for a whole run, and linking multiple tricks together. That's part of the fun.
Each level has a set number of objectives for you to complete. Whether they be getting a certain amount of points, performing specific tricks, or finding hidden 'things' on your route. Mastering your run is an oh-so-satisfying feeling. That being said, you don't have to if you don't want to.
Completing one or two objectives on a level comes pretty naturally, and you can easily move on to the next if you want to. It gives the game a good balance of being a fun and chill skate game. Or offering something for the more determined players to chase down.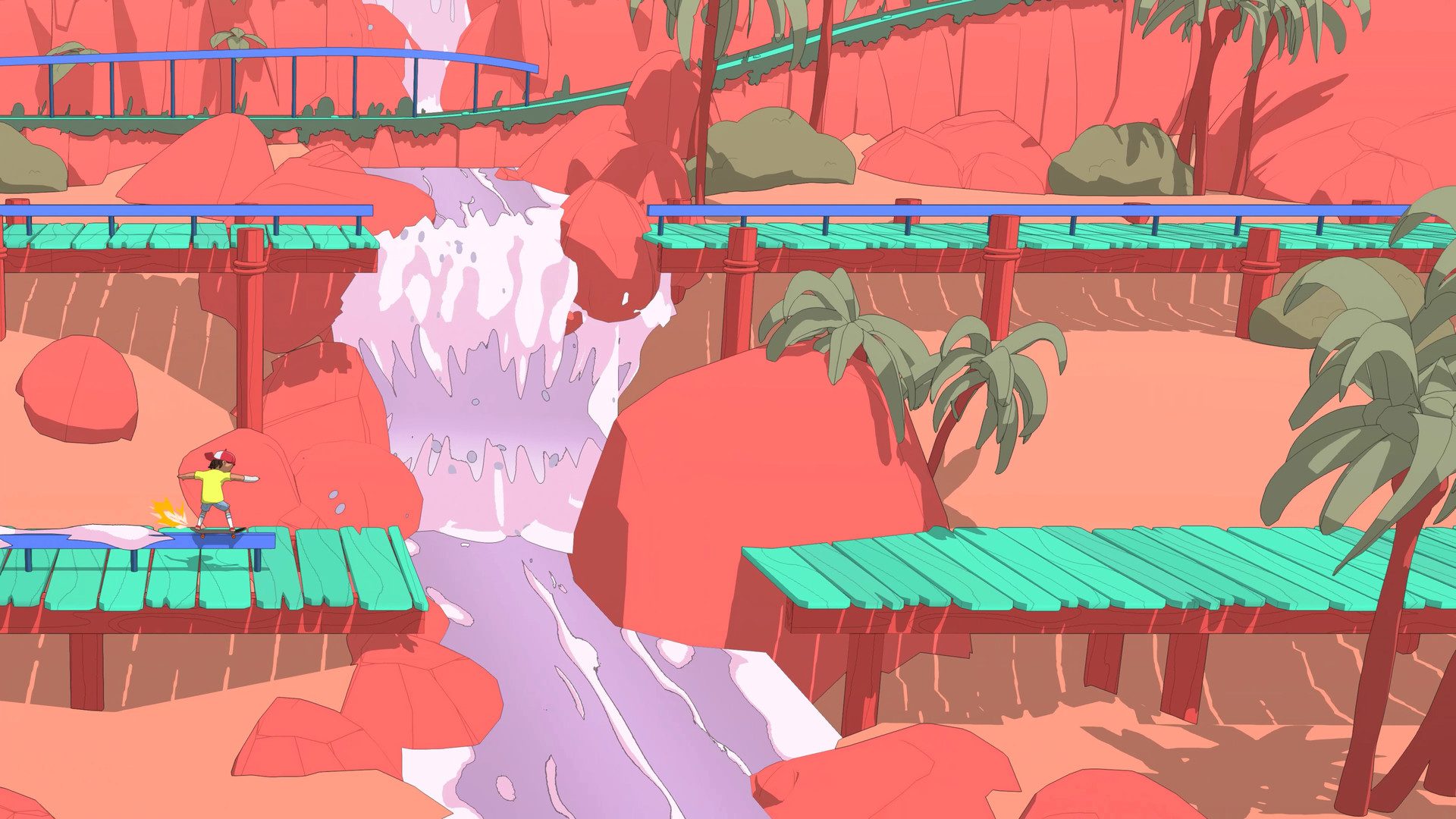 No Comply
When it comes to tricks you're not in short supply for what you can pull off. There are tonnes to do. Simple tricks like ollies, kickflips, and heelflips. All the way up to special tricks such as the Casper Flip, Sal Flip, and more. You can do grabs, grinds manuals, and more. The full trick list is huge. However, they're mostly simply mapped to one thumb-stick. Flicking the thumb-stick on your controller around in different directions, various circular motions, and what-not will keep you busy for hours.
I, however, seemed to have an issue in where if I wanted to do tricks that needed me to point up or right I'd always do a 'no comply'. I'm 99% sure it's because of my controller and not an actual issue with the game. That being said, my controller works fine in any other game I've used it on. Having looked around on the internet for anyone experiencing the same, it does seem to be an issue with my controller. But it's still weird…
Super Stylin'
The most immediate thing you notice about OlliOlli World is the way it looks. The visuals of the game are so spot-on that I couldn't help be suckered into it. Each of the five main areas has its own distinct colour palette to them which suits the 'lore' of that place. Then there are the customisation options for your character and board. There is a huge amount to choose from. That list of options only grows the more you play and unlock new items.
Then you have the super-chilled soundtrack to go along with it. The whole game is an aesthetic joy to behold and is easily one of my favourite looking games right now.
Conclusion
OlliOlli World is full of fun, there are loads of levels to play through each with its own unique challenges for you to complete should you want to. It's a beautiful game with a really nice relaxing vibe to the whole experience. The only downsides are that there are quite a few 'cut-scenes' between each level where the characters chat about random stuff. It's fine at first, but after a while, I felt like it really started to break up my flow. All I wanted to do was skate through levels. But having to keep jumping back to the map, select the next level, then get through the preamble got a little irritating. Granted, it's not a huge problem, and I'm sure many won't even notice it. However, I just wanted to shred.
-Will