A new year is here and as I look back at similar posts for games that were meant to release in 2021 I can't help but wonder how many of these games will come out this year. I'm sure some will miss 2022, but I'm hopeful that they won't. Anyway, let's take a look at some of the best-looking Indie Games coming in 2022.
Gord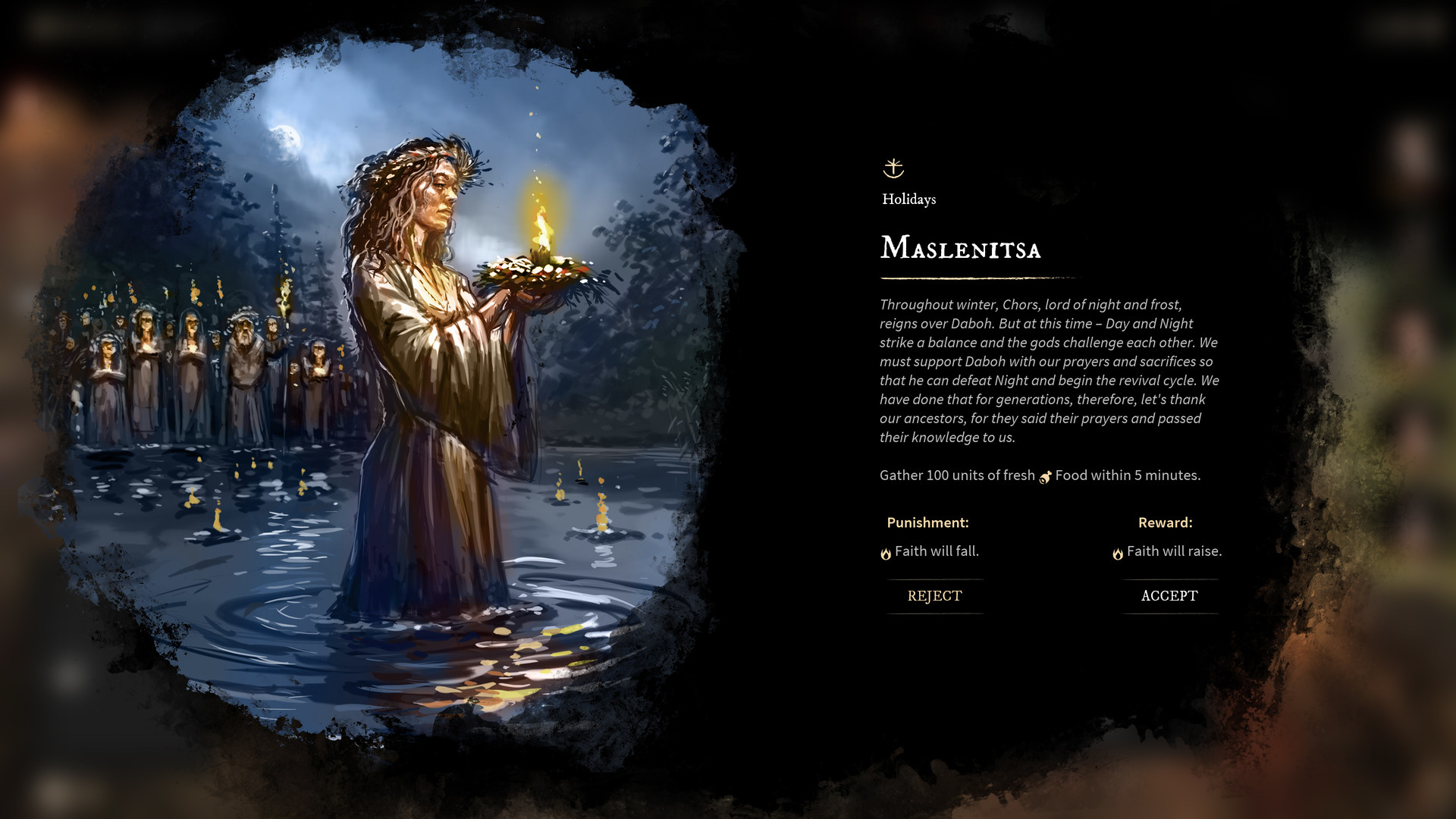 Developer: Covenant.dev
Release Date: 2022
Platform(s): PC
Genre: Strategy, Colony Sim, Survival, RTS
Gord is a single-player strategy game set in eerie lands full of strange creatures. Complete quests and manage your population as personal stories develop throughout your settlement.
This is a dark take on a city-builder with sanity, illness, death of kin just a few of the things you need to manage. The world is teeming with danger based on Slavic mythology with dark fantasy themes.
Citizen Sleeper
Developer: Jump Over The Age
Release Date: 2022
Platform(s): PC
Genre: RPG, Cyberpunk, Tabletop
Following the fantastic In Other Waters, Jump Over The Age are back with their next project Citizen Sleeper. This RPG is set within the ruins of interplanetary capitalism. Live the life of an escaped worker who's washed up on a lawless station.
Citizen Sleeper is inspired by Tabletop RPG's of the past. Expect branching storylines, impactful choices, and uncertain outcomes as your toil for survival on Erlin's Eye.
Silt
Developer: Spiral Circus
Release Date: Early 2022
Platform(s): PC
Genre: Puzzle, Adventure, Dark
Alone in a seemingly endless abyss of the underwater, you are a diver in search of long-forgotten mysteries. Silt is a puzzle game set in a surreal oceanic world. You will explore the depths of the dark, possessing creatures to help you solve puzzles. Encounter a dark world full of bizarre evolutions of nature, harness their powers, and head ever deeper into the darkness.
Risk of Rain 2: Survivors of the Void
Developer: Hoppo Games
Release Date: Q1 2022
Platform(s): PC, Consoles
Genre: Action Roguelike, Multiplayer, Third-Person Shooter
Risk of Rain 2 is already an incredible game. But it's no doubt about to get much better with the first expansion, Survivors of the Void. Expect to see all-new levels, enemies, bosses, over 40 new items. Additionally, there will be a new game mode called The Simulacrum which is a wave-based mode set within the void.
The Invincible
Developer: Starward Industries
Release Date: 2022
Platform(s): PC, Xbox Series X & S, PS5
Genre: Thriller, Sci-fi, Exploration, Action-Adventure
Based on the Novel of the same name by Stanislaw Lem, The Invincible is an upcoming action-adventure set in a retro-futuristic timeline. You awake on a hostile planet – Regis III and must embark on a mission to find the missing crew of your spaceship. Terrifying secrets will come to light as you explore and try to survive.
Hidden Deep
Developer: Cogwheel Software
Release Date: 24th Jan 2022
Platform(s): PC, Xbox Series X & S, PS5, Nintendo Switch
Genre: Dark, Mystery, Mining, Thriller
Hidden Deep is an atmospheric sci-fi action game inspired by classics such as Aliens, The Thing and Half-Life. Explore, climb, swim, and swing your way through dangerous caves in a huge sub-oceanic mining and research facility. Lurking in the dark are creatures straight from your nightmares waiting to snatch you up.
I've played this in beta already, and it was fantastic, fun, and scary as hell.
Shadows of Doubt
Developer: ColePowered Games
Release Date: TBC
Platform(s): PC
Genre: RPG, Noir, Voxel, Action
I'm 99% sure this game won't be out in 2022, but I wanted to include it anyway because it sounds really cool.
Shadows of Doubt is a detective game set within a fully-simulated sci-fi noir city. A serial killer is on the loose and you're trying to catch them by any means necessary. Sneak around the city as you tail people, pick locks, hack systems and skulk around in the dark trying to find clues.
Every inch of the city is said to be explorable. Furthermore, the city is full simulated meaning NPC's have their own apartment, job, and routine. It sounds ambitious as hell but equally amazing.
OlliOlli World
Developer: ColePowered Games
Release Date: 8th Feb 2022
Platform(s): PC, Xbox Series X&S, Xbox One, PS5, PS4, Nintendo Switch
Genre: Precision Platformer, Sports, 2D Platformer
OlliOlli World is a bold new skateboarding platformer bursting with personality. Flip, grind and flow your way through the vibrant and beautiful world of Radlania. This delightfully weird world is full of characters to meet and challenges to complete. Huge amounts of customisation, tight controls reward refined gameplay in this free-flowing world.
OlliOlli World is bright, colourful, and looks lots of fun.
The Day Before
Developer: FNTASTIC
Release Date: 21st June 2022
Platform(s): PC, Xbox Series X&S, PS5
Genre: Zombie, Open-world, Multiplayer
Honestly, I'm still very skeptical of The Day Before. It looks very ambitious and history has shown that making a good open-world zombie survival game is no easy feat. That being said, if FNTASTIC can pull it off then this should be one hell of a good game.
Set in a post-apocalyptic America overrun by zombies you will try your best to survive on your own or with others. Explore vast and varying landscapes from big densely populated cities to the sparse countryside and mountainous regions. Scavenge for supplies and do your best to survive.
Midnight Fight Express
Developer: Jacob Dzwinel
Release Date: Sept 2022
Platform(s): PC, Xbox One, PS4, Nintendo Switch
Genre: Action, Beat 'em up, Isometric
Midnight Fight Express combines old-school brawlers with newer fast-paced motion-captured combat as you fight your way across the city. Use various weapons and the environment to win battles. Quick to pick up but difficult to master there will be lots of tough challenges for the most dedicated of brawlers. Level up and unlock new cosmetics, new moves, and more to aid you in your fight. Mightnight Fight Express looks slick and stylish with brutal hand to hand combat.
Compound Fracture
Developer: Iteria Games
Release Date: TBC
Platform(s): PC
Genre: FPS, Retro, Dinosaurs
This is another game that I'm not sure will release this year. However, I still wanted to mention is as it's another really cool-looking Indie project. Compound Fracture is a retro-styled FPS inspired by games such as Dino Crisis. You will need a steady hand and quick reactions to survive this dino nightmare as you gather supplies and fight for your life.
I just love the retro art style of this game, it's so immediately inviting.
Ripout
Developer: Pet Project Games
Release Date: 2022
Platform(s): PC
Genre: FPS, Online Co-op, Horror
If you like GTFO, L4D, or other games like this then you should be keeping an eye on Ripout.
Gorgeously violent and bloody, Ripout takes place in 2084 after humans left earth in a bit to escape a horrific enemy. The problem is, is that it followed them. Now you must fight for survival in an abandoned and infested spaceship. Team up or go it alone as you tackle monsters of all shapes and sizes. Thankfully, you have some handy biotech to help in the form of your Pet gun. This sentient weapon can be modified and upgraded with all sorts of crazy things to help you stave off the mutants.
Stray
Developer: BlueTwelve Studio
Release Date: 2022
Platform(s): PC, PS4, PS5
Genre: Adventure, Cats, Cyberpunk, Exploration
Lost, alone, and separated from family, this stray cat must untangle an ancient mystery to escape a long-forgotten city. Stray is a third-person adventure game where you play as a cat in a neon-lit city. Explore the city in stealthy, nimble cat-like ways, befriend a drone and try to find a way out. Stray looks like a charming adventure and one that many are hotly anticipating.
There are so many other great-looking Indie Games coming in 2022. Which ones are you looking forward to?
-Will