Abseiling down into a pitch-black cavern you hear the screams of something inhuman. From the shadows, grotesque creatures emerge. Crawling, flying, jumping all of them trying to get to you. Your unsteady shots ring out across the darkness in hopes of taking them down.
Hidden Deep is a tense and claustrophobic journey through a mining and research facility more than a mile under the ocean floor. Strange anomalies have been detected and a team of researchers is sent to investigate. After 681 days, contact with them is lost. You must lead the expedition to find out what happened to them.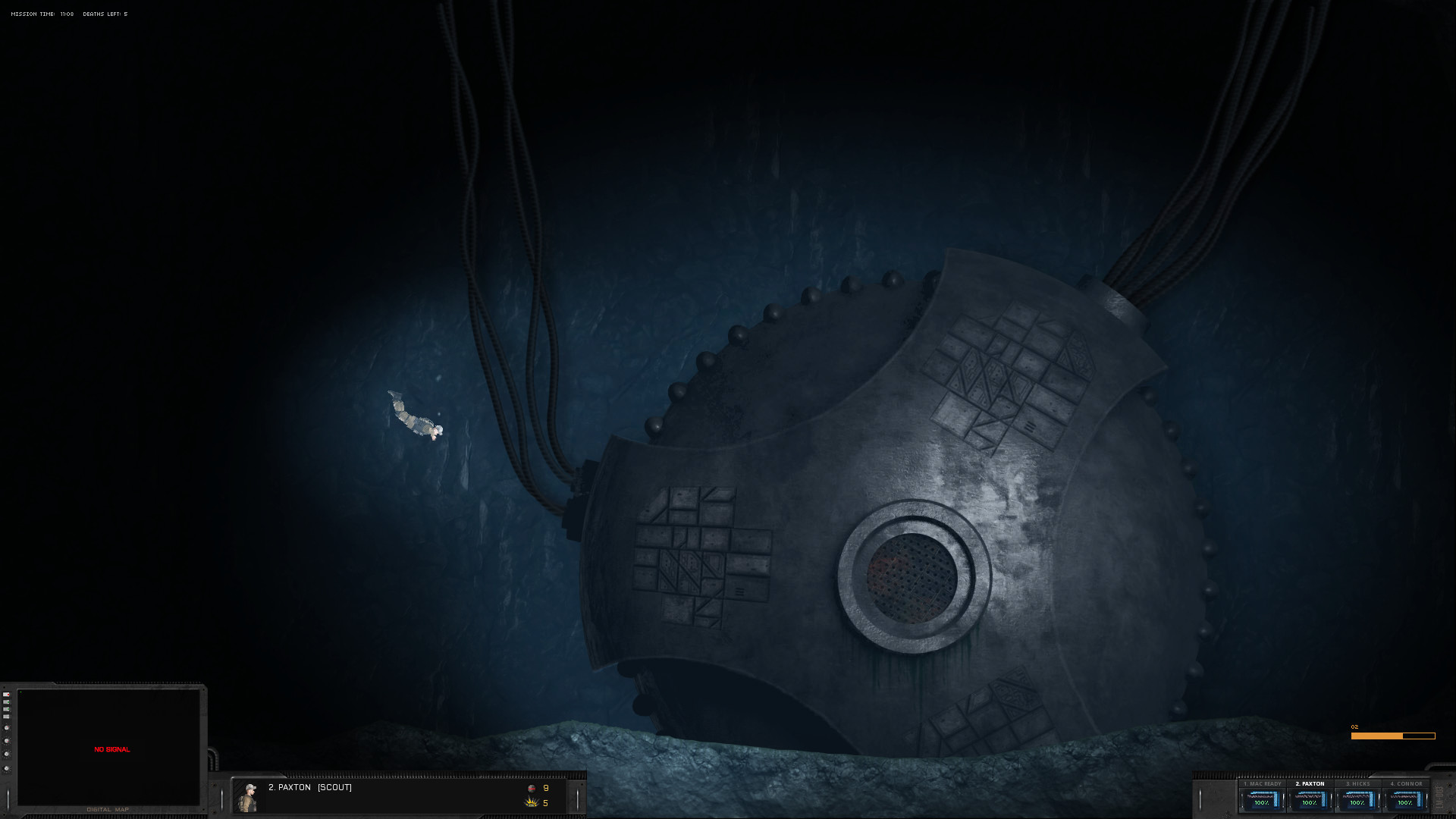 This product was received for free
Hidden Deep Early Access Review
With a distinct inspiration from sci-fi horror films such as The Thing and Aliens. Hidden Deep does a great job of delivering a horror experience that's less about jump scares and more about what is lurking around the next corner. Building a sense of foreboding and anxiety.
Typically I don't enjoy scary games. Waiting on jump scares and the feeling of being chased by things that can't be killed isn't something I enjoy. That being said, I do enjoy creepy atmospheres and intriguing, dark worlds. Hidden Deep is more aligned to the latter.
Creeping, crawling, climbing your way through the maze of mines can be disorienting and claustrophobic. Knowing that there are gross creatures awaiting you, but not knowing what they could be or where exactly they're hiding causes you to cautiously approach new areas. Whether you're taking lifts up and down long shafts to new zones or dangling over the edge of a cliff that plunges into darkness. There is always a slight sense of dread about your expedition.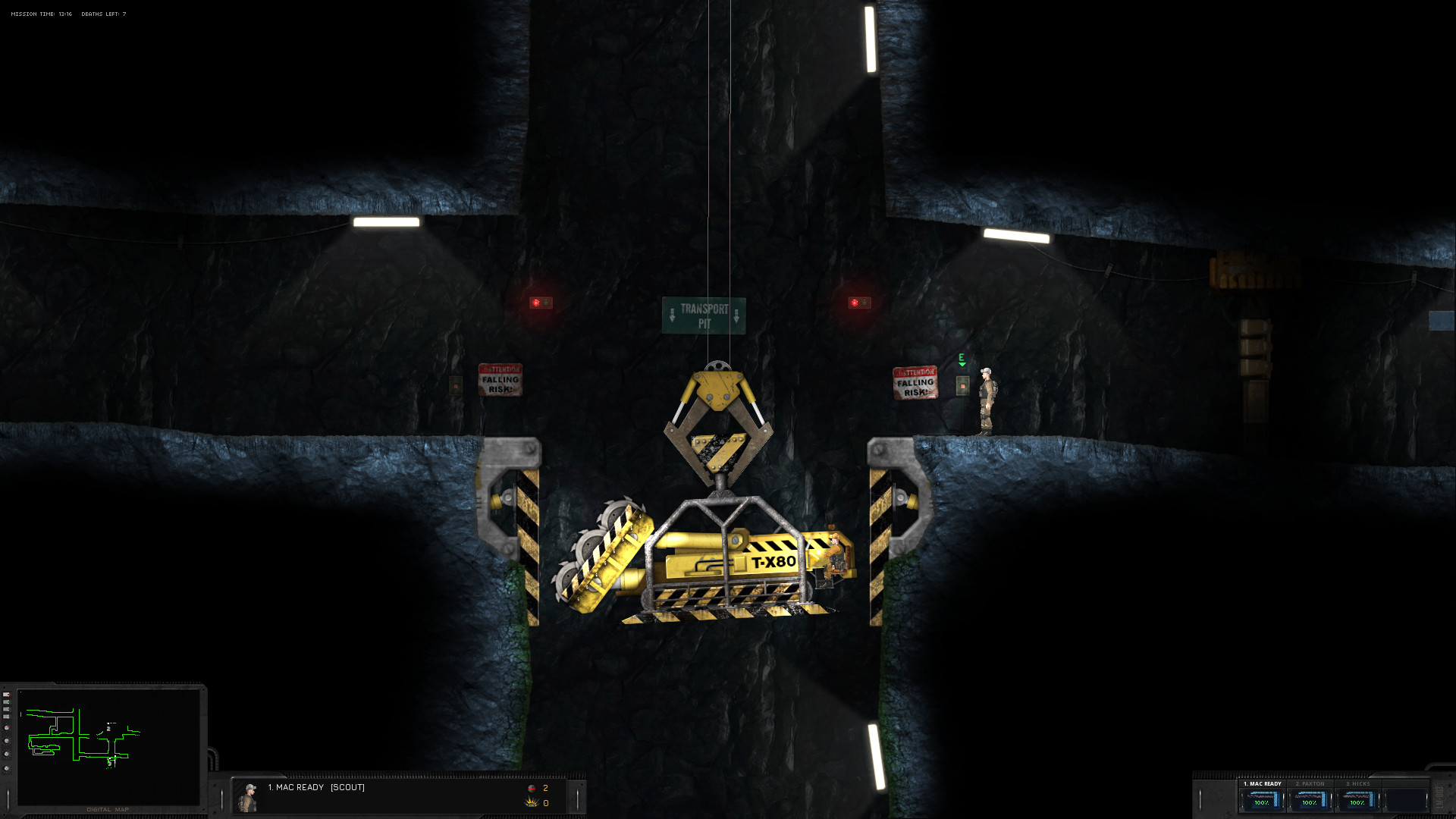 Early Access
As the game is in early access, you can expect features to be missing or a work in progress. Additionally, it's not uncommon to encounter bugs. As it stands there are 8 main missions to play through. The time to complete them will range from 20 minutes up to an hour depending on how quickly you move around or how often you die. I made it through them all in about 5 hours. Furthermore, there is a challenge mode where you can create custom missions by tweaking various settings such as the mission type, enemy numbers, and a few other bits.
There is also the ability to play the game cooperatively via the game share function. I couldn't get it to work when I tried it. However, I've since found a useful guide on how to do it. It does seem a little finicky to set up though.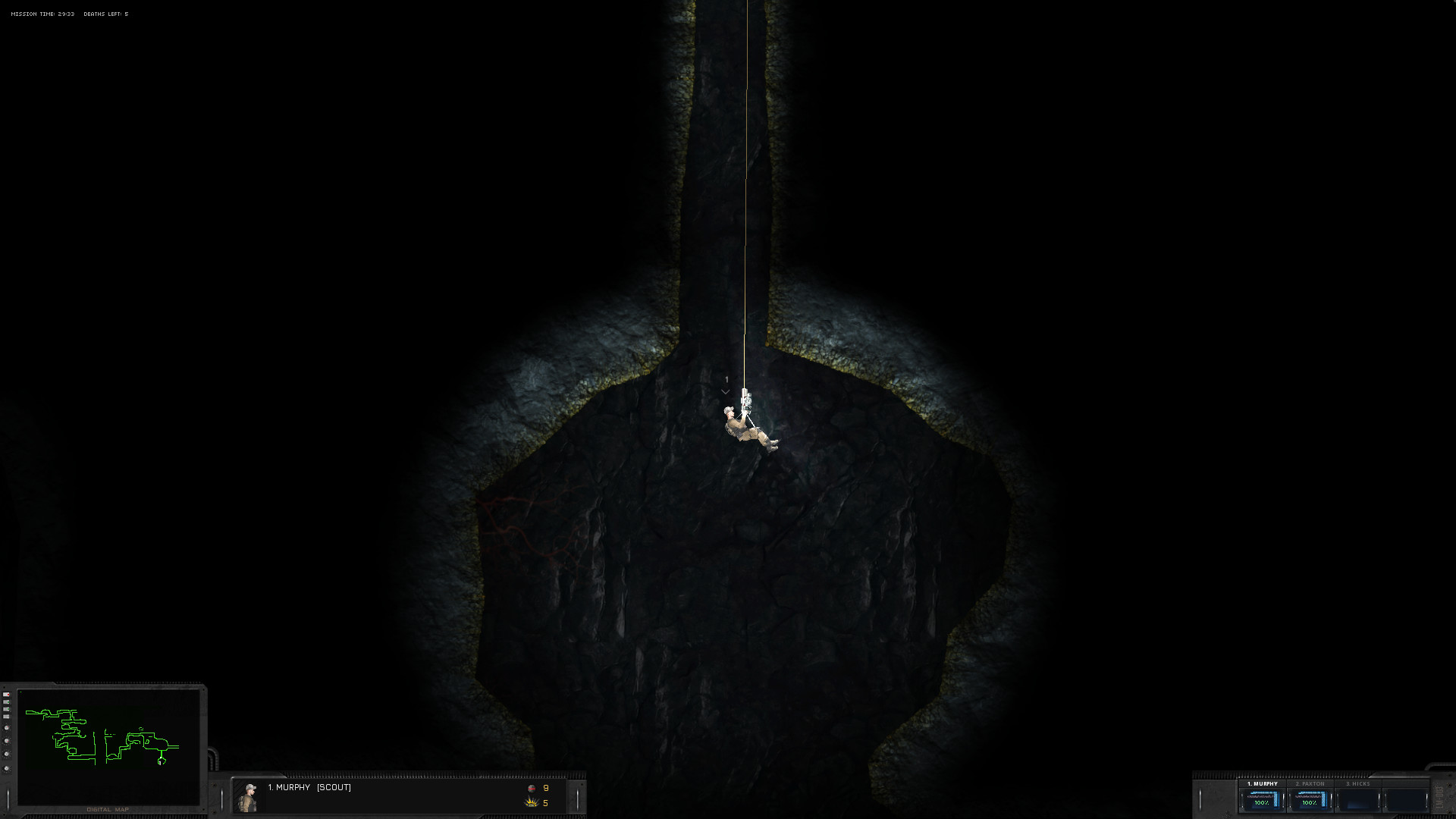 As for bugs. I've not really encountered much apart from one instance where I was unable to pick up an object for a while. Other than that it has been bug-free for me. That being said, I have seen some others mentioning various bugs, so just be aware that there are some lurking. It seems I just got lucky.
If that doesn't sound like enough content for you then perhaps take a look at the future of Hidden Deep and the game's road map.
There is still a lot more to come from the game. With one of the main draws for me being a proper co-op experience.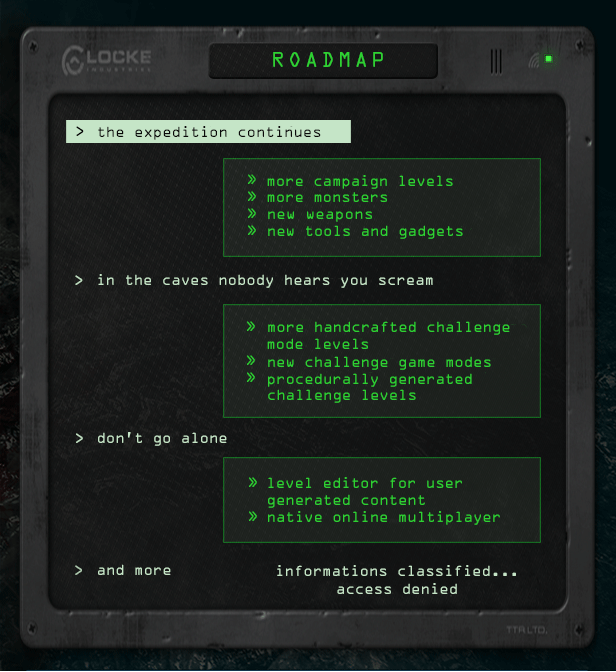 "We're Not Gettin' Out Of Here Alive. But Neither Is That Thing."
Hidden Deep's setting is ominous, to say the least. It's dark, there are narrow passageways all over the place, and it seems 'something' is taking over or growing. Adorned on most of the walls are dark red sinewy lifeforms almost like a mold growing through the walls. The origin of this substance is unknown, but there is no doubt it directly relates to the admonitions you encounter. Grotesque mutations and disgusting beasts are lurking down there.
Currently, enemy variety is a little samey after a while, It's clear that many of the more terrifying creatures are still yet to come – as we can see from screenshots and videos. That being said, what you do face off against are exactly pleasant. They're numerous and dangerous if you don't keep an eye on their movements. However, I didn't feel overwhelmed by enemies and certainly never felt like I was in danger of running out of ammo. You're given plenty to spare. Additionally, with various gadgets at your disposal like drones, you can scout ahead to see what you're facing. Once I got the hang of dealing with each type of enemy I never felt overly in danger of failing a mission. I can imagine harder difficulties becoming quite the challenge though and I'll be interested to see how they develop as well as the challenge modes.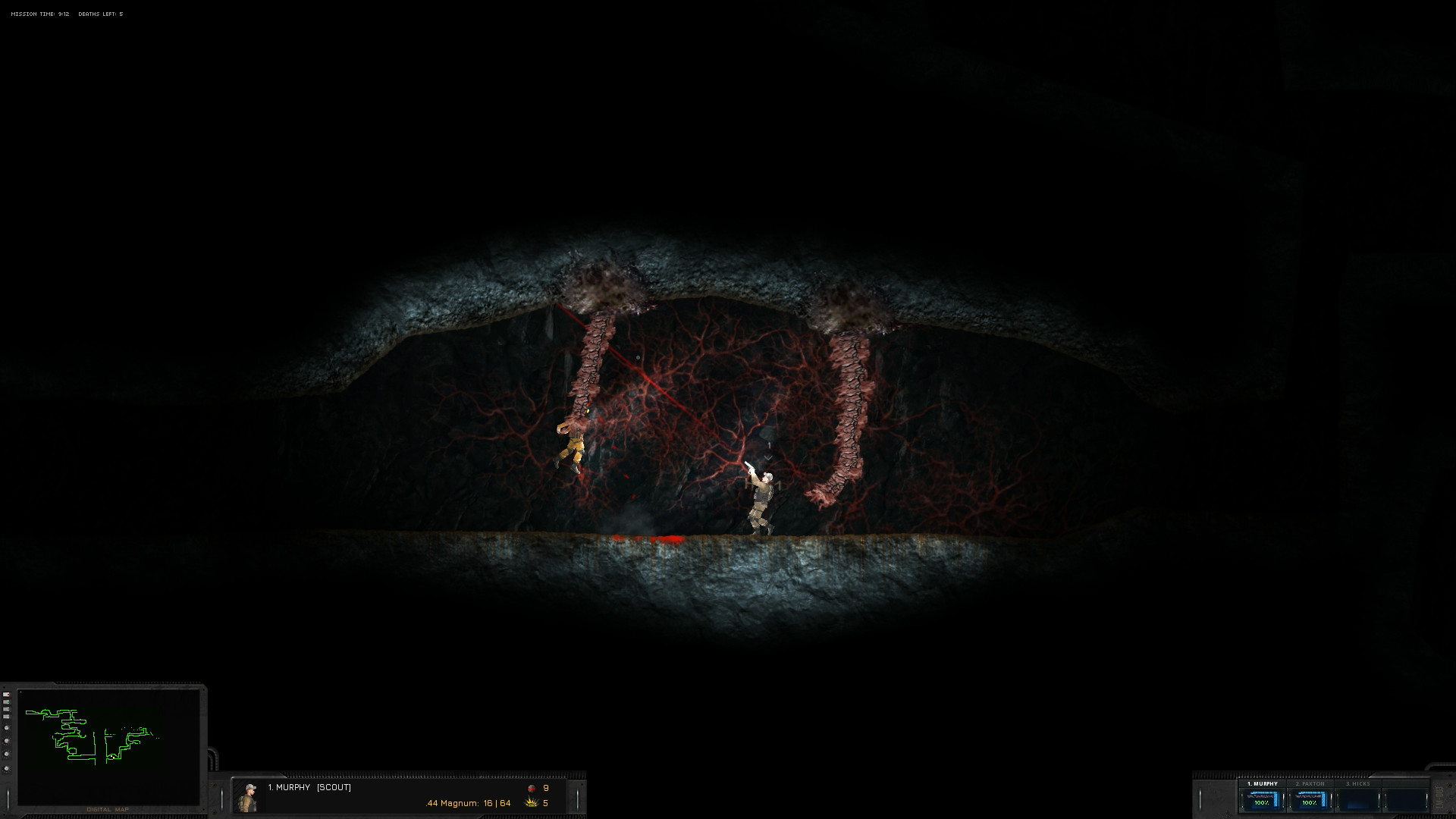 Conclusion
Typically I'd score the game, however, as it's still in early access I don't think it will be a fair representation – especially after some updates and more content. What I will say is that the handful of hours I played were great fun. The story is interesting and I'm eager to find out more. The gameplay is fun. The physics and puzzle solving are enjoyable and I've no doubt they will get even better.
Whether you think roughly 5 hours of story and the challenge mode is enough for you is hard to say. However, I'd certainly recommend keeping a close eye on the development. This is going to become a really great game full of loads of excellent content. At the moment, some may find it lacking and it might be worth waiting for more on offer. Personally, I think it's great and early access is off to a fantastic start.
-Will