Almost 4 months after launch and after a little break. New World seems to have settled into a role of being a cosy little getaway game for me. Wandering around the luscious vistas of Aeternum picking up odd jobs here and there. Whilst also doing some mining, gathering, crafting, etc… Has become a nice little routine for when I'm not sure what else to play or just looking for a slight change of pace.
Winter was coming
Within the first few weeks of playing, I'd put in around 90 hours and was somewhere in the early to mid '30s of leveling. It was at that point that I felt a little burnt out and that questing was getting very repetitive. Having said that, up to that point I'd been really enjoying the game but it was time for a bit of a break. Then around the time of the Winter Convergence – a holiday-themed event where you could earn unique rewards, I started to dip my toe back in.
I'm now level 42 after meandering around doing some quests and bits and bobs and it's been really nice. Being able to casually work towards the unique rewards from the Winter event really help. It hasn't felt at all like it was overly grindy to start unlocking some decent things. It was just enough to spur me to the next reward. Additionally, going about my business doing some mining here and there is pretty relaxing. I've been casually grinding my way through the levels and I loved it. No dungeons, no PVP, just a relaxing wander through a lovely-looking game.
Solitude
When the game first launched it was obviously pretty busy. Server queues were a thing, all of the towns were bustling with activity. Plus, you'd constantly be bumping into other players when out and about, no matter where you were. However, now that the initial fever has died down, either from players hitting 60, or not enjoying the game, or maybe just taking a break like I was. There is a sense of solitude about New World. I'm not sure what other servers are like, but my particular server has quietened down a lot. Rarely will I see people off the beaten paths. Even on main roads, I won't pass that many people. The towns are less hustle and bustle, more a calm hum of activity. I actually really like it. When I do bump into someone out in the wilderness I will take the time to give them a little wave as it's kind of rare.
Playing solo for the last few weeks has been an enjoyable break from the more intense games I play. It's like dipping in and out of a game like Skyrim, where you just go off on little adventures doing whatever takes your fancy. There is no pressure to hit max levels. No real chasing of better gear. Just you, yourself, and the wild.
A rocky launch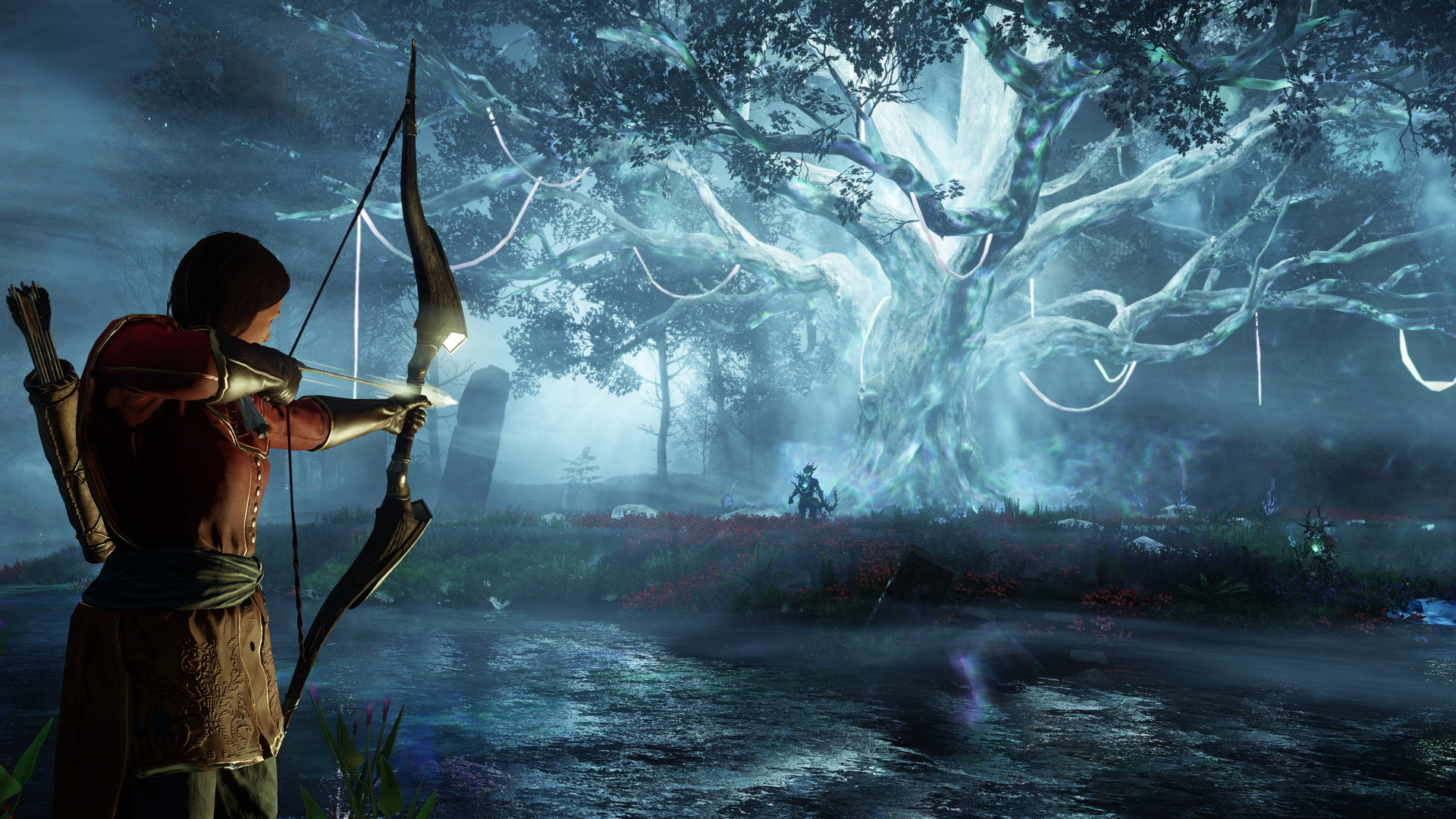 It's fair to say that New World has had a rocky and mixed launch. Whilst there are many – myself included, who have enjoyed playing. I think it fell well short for others. It's easy to see why people think that too. The questing has been repetitive and once I'd hit around level 25 I felt like there was a real mismatch in what to do. The adjacent areas were a bit too tricky to navigate on your own. But most of the main 'stuff' had been completed in the starting areas. Additionally, the PVP seems very unbalanced and just a bit broken. I've not engaged much mainly because it's not that fun and there isn't much to do or any real benefit to it at lower levels.
Furthermore, there seems to be a real lack of mob variation. There are way too many pirates, and undead-like creatures scattered all over the map. Just a few different enemy types would really help to make it feel more interesting. Then there is the lack of end-game activities beyond just PVP stuff. There are changes in the pipeline to dungeons being worked on which should help make them more interesting with the addition of modifiers.
I think once we get closer to the one-year anniversary of New World we will be looking at a much more enticing MMORPG. However, for now, I'm happy to just slowly chip away at my quests, tasks, and levels in hopes of getting closer to level 60.
Dipping back into New World even for just an hour or so every day or two has been a really nice experience.
-Will