Deck of Ashes is a story-driven card battler where you will embark on a quest of redemption across dangerous lands filled with deadly foes. Hunt down powerful cards in a cursed fantasy world across procedurally generated maps.
Deckbuilding and card battling games are undoubtedly on the rise. It's easy to see why with the recent success of games such as Slay the Spire.
For this Deck of Ashes review, we were provided with a free copy of the game.
Platforms:  Steam,
Players: 1 Player
Genres: RPG, Deck-Building, Indie, Adventure
Developer: AY Games
Price: £15.49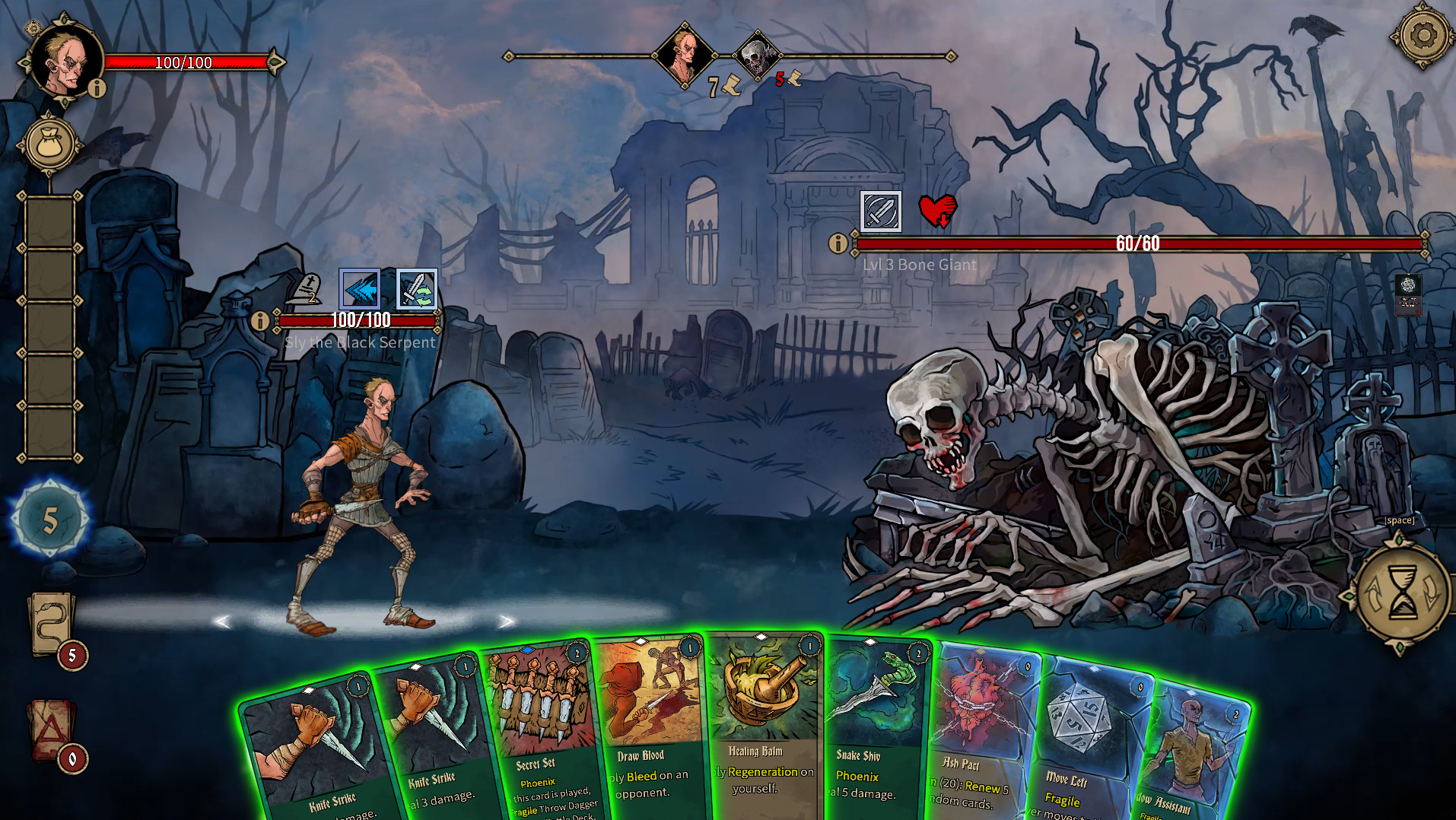 Deck of Ashes
Choose one of the multiple characters to embark upon their own quest for redemption. As you progress you will unlock new and powerful cards to add to your collection. Furthermore, gather resources and treasures to trade for other bonuses that will help you traverse this dangerous world. Looking alike an amalgamation of Slay the Spire and Darkest Dungeon, Deck of Ashes presents a slick and stylistic card game.
Each character has their own back story for you to learn as well as their own style of play and cards to accompany them. Each one feels different when playing and help to create new ways to enjoy playing.
Should you die on your quest, you will have to start all over again.
Exploration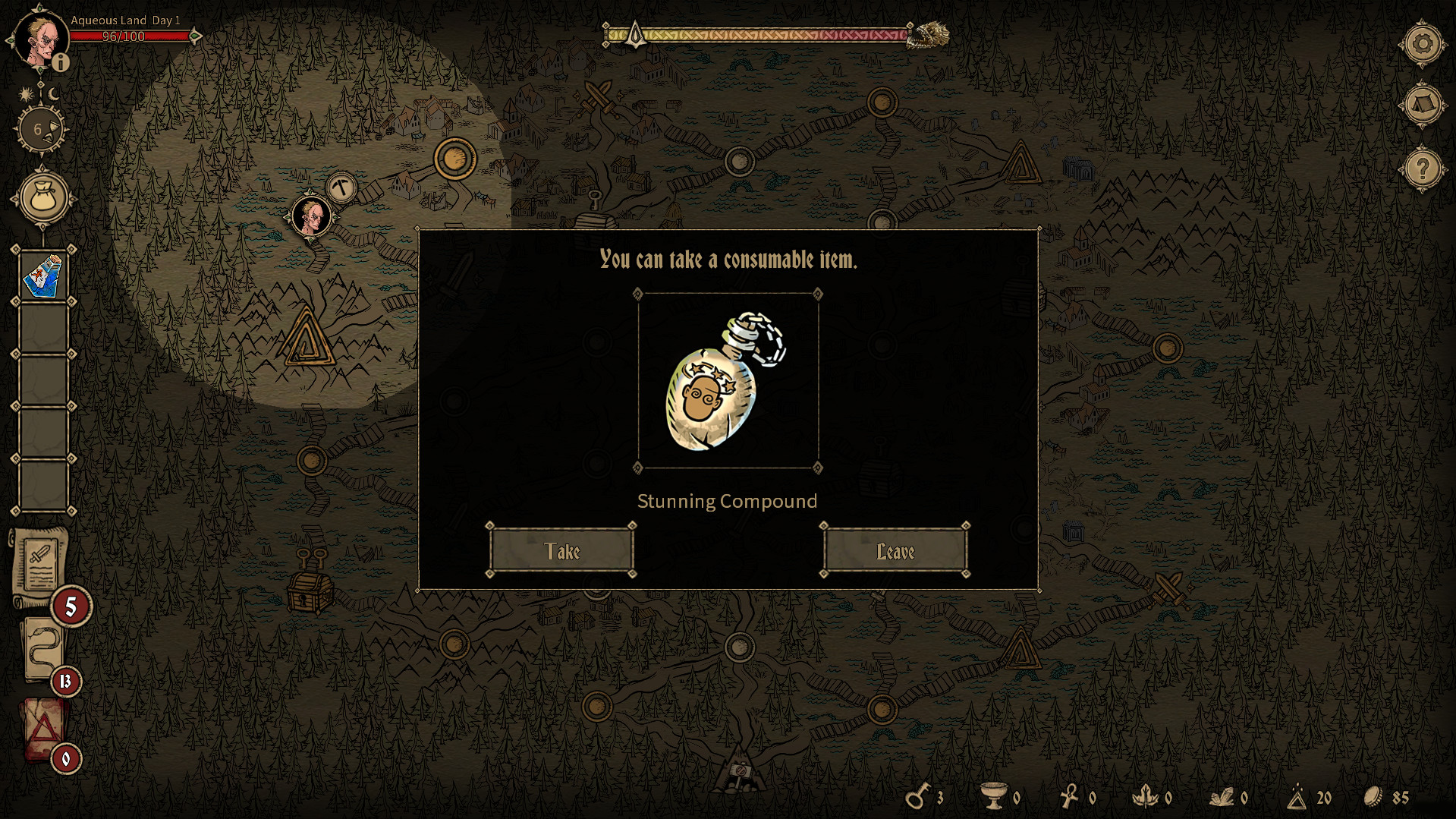 One area that I particularly enjoyed about Deck of Ashes was its approach to exploration. Each map is procedurally generated. In the centre of the map is your camp and surrounding that, is a variety of places to explore. Battles, dungeons, random encounters, treasure chests, and more are all available to hunt down. However, there is an ever-present and a much bigger threat. As you play through a 'level', you'll be constantly hunted by a boss. Shown by a progress bar at the top of your map, they will slowly edge towards finding you.
Whilst you can, you will want to prepare for the inevitable battle. You're free to explore where ever you want and each location will reward you with random items or currencies for trading. Collecting more powerful cards is a good idea. Thankfully, there are many ways to do this. You can buy them from traders at your camp, you can get them from winning fights, or they can randomly appear on the map for periods of time as limited 'events. Not only that, but you can also explore dungeons that hold treasures and mini-bosses. But they can easily get the better of you if you're not prepared.
There are numerous biomes to uncover each with their own unique challenges for players to overcome.
As you explore and progress you will uncover more lore to the world and your character's story. Personally, I didn't find the story all that interesting or engaging. I was rather more focused on just enjoyed the combat.
Audio & Visual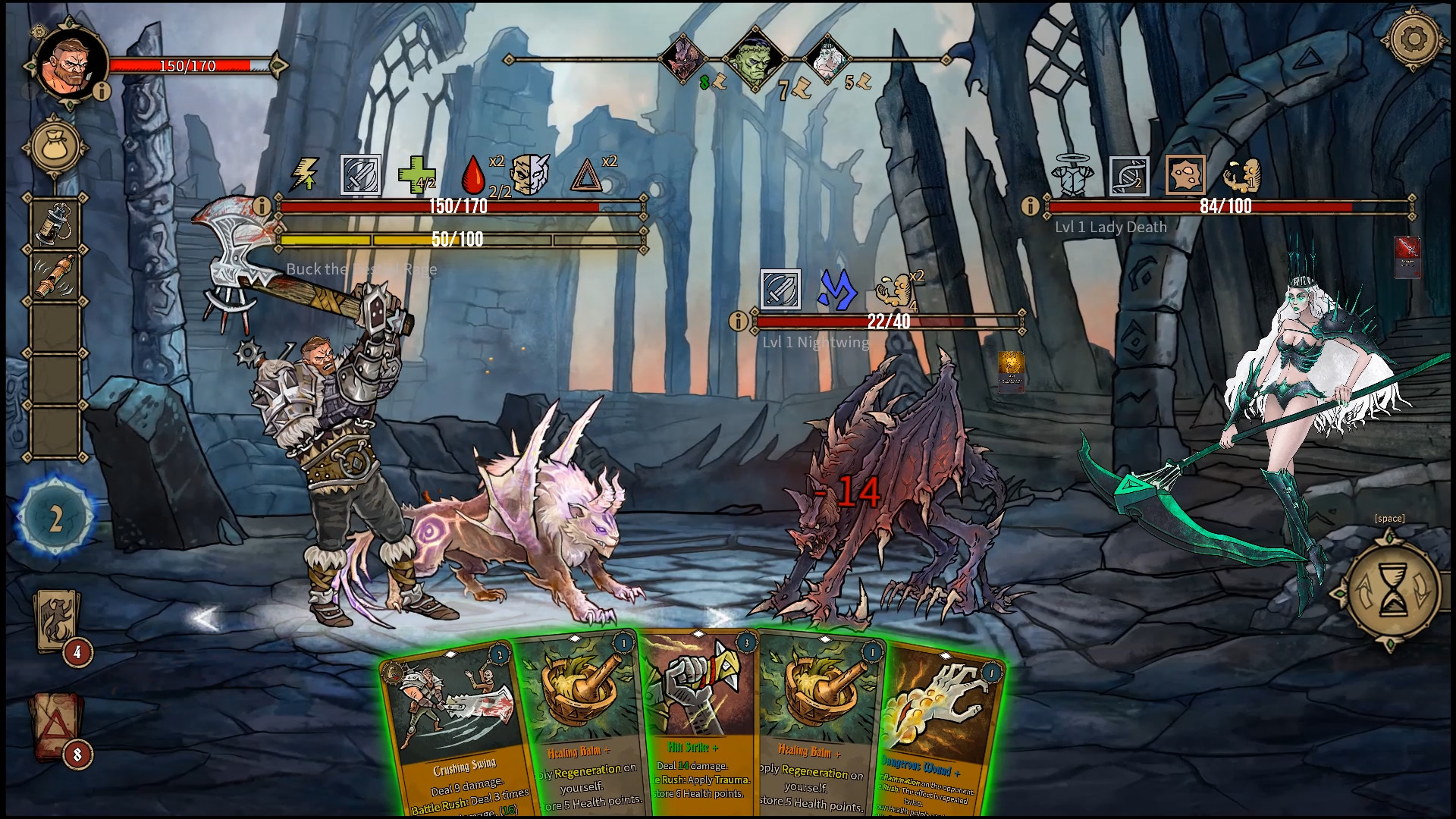 The character design is probably where the game shines best, the enemies are a mixed bag of grotesque creations straight from fantasy nightmares. Each with detailed character models that represent the grim world you're exploring perfectly. Furthermore, there is a satisfying soundtrack to accompany your battles.
The battles themselves are slightly let down in that I didn't feel like the attacks really packed much punch. Some of them felt a little flat and lack a little bit of imagination on the visual side. That being said, they are still decent and the combat itself is fun to learn.
Whilst the sound isn't bad by any stretch of the imagination, nothing really felt like it stood out or remained memorable. Often when playing games that have a lot of battles I find myself humming the music afterwards. However, I can't remember what it was at all.
Deck Building
Combat and building your deck is what this game is really about. Thankfully in this department, there is lots to absorb. As mentioned, each of the characters has their own unique deck of cards to play with. Furthermore, each of the decks also have unique cards to unlock and collect. And with the different characters come different ways of playing.
The most fun part about deck building games usually comes in the form of learning what cards complement each other the best. Generating chains of attacks, or stacking buffs and debuffs is always great fun. In Deck of Ashes, you're able to create truly powerful decks that allow for those devastating combos.
You will have to try and think tactically about which cards you use and when as at the end of battles you will need to refresh certain cards and in order to do that you have to spend rest points. Additionally, healing can also be carried out post-fight by spending rest points. Getting the balance right between refreshing cards and healing can mean the difference between life and death. What this does is help to create another layer of thinking when going into battles.
Conclusion
Deck of Ashes is a solid entry to the deck-building genre. There is lots of variety in the ways you can play and decks you can wield. Having said that, for me, it lacks a little bit of polish in the actual fighting. I couldn't help but feel like there was a lack of punch to everything you did. Furthermore, the story was also not of much interest to me.
-Will