2020 has provided us with a whole bunch of excellent games. From new IP's to fantastic sequels we have been treated to some top quality gaming entertainment. With the end of the year fast approaching we thought we'd share our games of the year.
Will's Honourable Mentions
Hades
I've talked about Hades already in our best indie games roundup. Whilst I've only spent around 10 hours playing Hades – which is way off of completing it, I've still found it to be one of my most enjoyable games this year. With an excellent story, visuals, and combat Hades took the bar of action roguelikes to a new level.
Temtem
Releasing in to early access at the beginning of the year I didn't really think I would enjoy Temtem as much as I have. Sure, I was fairly certain I'd like it. However, I've found Temtem to be an excellent game for when I just want to chill out and play something that's not too taxing. With 50 hours played to date I've had an amazing time exploring the islands and collecting Temtem.
Will's Game of the Year
Ori and the Will of the Wisps
Ori had some big shoes to fill with this sequel. Not only was the first game one of my favourite games of all time. It's also many people's favourite game and set a precedent for modern metriodvania's.
Thankfully, Ori and the Will of the Wisps delivered on all of its expectations. A bigger world to explore with more secrets to find, diverse areas to traverse and master. Plus loads of new gameplay mechanics and abilities to make use of. Couple that with an emotionally engaging story that drives you forward, Ori got the sequel it absolutely deserved.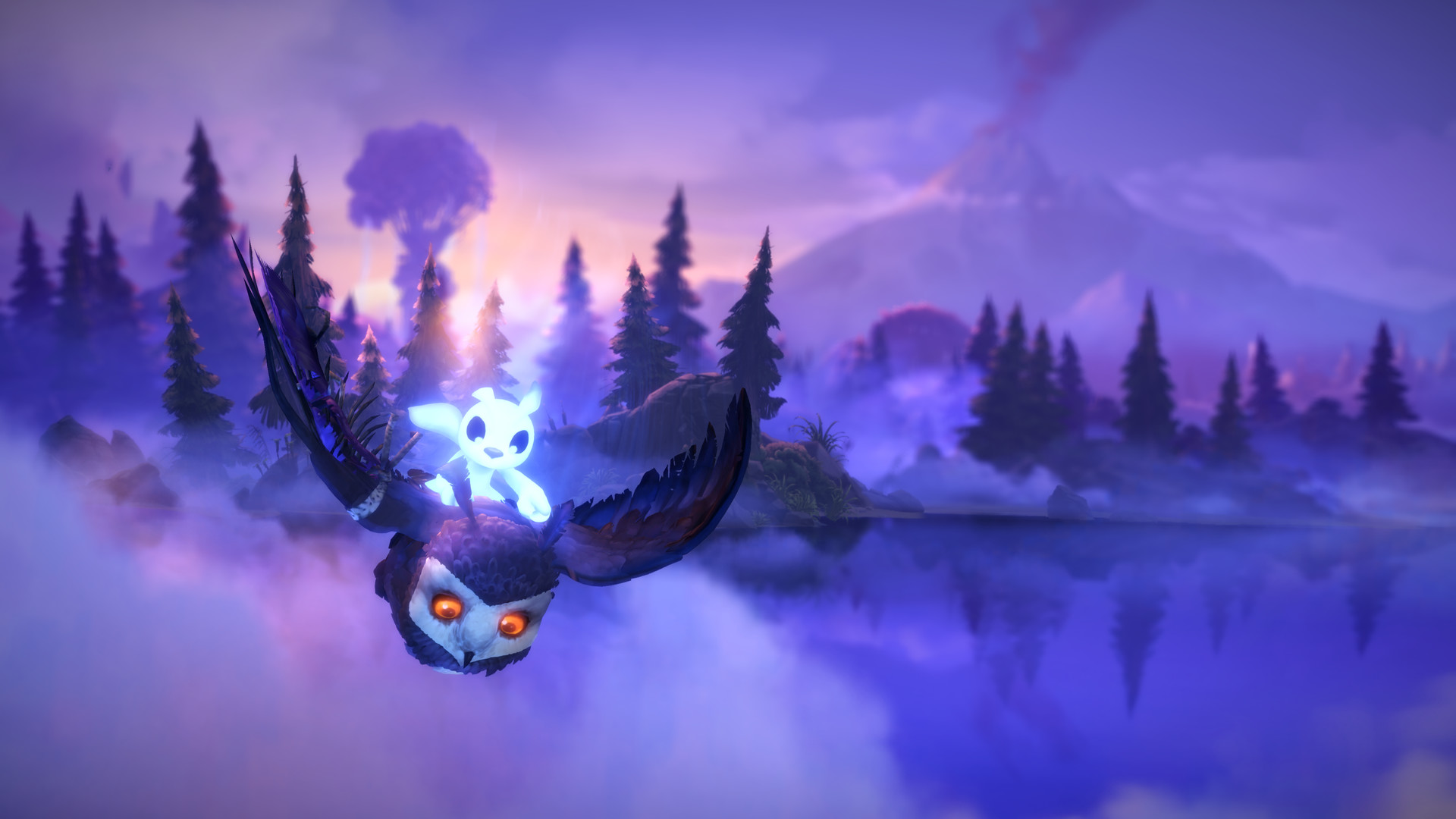 Every moment of jumping, dashing and smashing through Ori is a joy. The movement so fluid and precise and the environments are stunning to see. The game blends a great mixture of adventure and challenge. The boss fights are big epic set pieces that will test your reactions. Whilst traveling from zone to zone is made fun but the freedom and speed in which you can leap about. Ori's nimble acrobatic skills are easy to pick up and once you really get the hang of them you can fling yourself around as quickly as you like.
Right from the moment I first saw the trailer for Ori and the Will of the Wisps I knew I was going to enjoy it. It hit that tone of the first game that I was looking for. I'm glad I enjoyed it even more than I thought I would.
Murr's Honourable Mentions
Ghost of Tsushima
The last of the big PS4 games to release (or so we thought at the time). It was a stunning game to close the generation down with. Set on the beautiful Island of Tsushima during the Mongol invasion, SuckerPunch created a gorgeous open world paying homage and respect to Tsushima and Japanese culture in a stunning way.
The game is long, yet addictive. The usual tropes that are comparable to Assassin's Creed or Far Cry such as liberating enemy camps seem much more desirable to complete in this given the stances you learn and have at your disposal to do so.
All in all a thoroughly enjoyable game that would no doubt have had a more successful year award wise if it had been the only Sony First Party Studio to release a game this year.
Animal Crossing: New Horizons
If you wanted a lightning in a bottle, this was it. The Coronavirus Pandemic of 2020 sucked, it sucked hard, it's ruined our lives and it's here a while longer. The week that the UK went into one of the most surreal events of all time, a full stage lockdown was the week that Animal Crossing launched.
As said, it was lightning in a bottle timing wise, there couldn't have been a more perfect launch time for this game, or a more perfect launch game for the situation we all faced.
The news grew ever more sad and worrisome, but Animal Crossing had the ability to genuinely take your mind off the world crumbing around you for a few hours. It spawned virtual talk shows from celebrities and it attracted big stars. Brie Larson and Elijah Wood tweeting would anyone be able to trade items or DIY's with them. It was huge. Companies using their islands as marketing campaigns. It had such a happy awe and appeal about it. It was and is my most played game of 2020. It was charming, addictive, fun, frustrating but everything that we needed in one of the strangest years.
Murr's Game of The Year
The Last of Us Part 2
In the week of September 17th 2013, I completed one newly released game twice in a week. That game was GTAV. I've not repeated such a feat until the week of June 19th 2020. The Last of Us Part 2. Situations have changed since 2013, with a terrible (nearly 2 at the time) year old, finding time to play games is difficult. I really hope this emphasises how much I enjoyed the game to put any available free minute I had into this game not once, but twice in a week.
The Last of Us Part 2 is a game that can take what you think you know and like and completely flip it on it's head, give you a fresh perspective on something (if you managed to stay spoiler free in the leadup to the game release is) and make you turn on the hero and root for the villain.
Day 3 of Seattle, approaching the ending with Ellie and foolishly, ever so foolishly thinking that was it. To then start Seattle day 1 with Abby.
I said it before on a roundup here. It pissed me off, it really annoyed me. The journey that I'd just been on with Ellie to get through 3 days of Seattle, to then start it again with someone who at the time I actually loathed was such a kick. I was genuinely laughing when it started, not expecting it to be as long, and shook that it was even happening.
But then, the more you progressed with Abby, who lets not forget, you absolutely fucking hate at the start of Seattle day 1, you start to open up to her. You see her side of the story from way back when in Last of Us Part 1. You see the events that unfolded over Ellie's 3 days in Seattle from her eyes.
There are some absolute gut punching, tear jerking moments in this game through both of their views of the 3 days in Seattle. The end result after playing through both their sides of the story. The culmination of it all and seeing how close they were to crossing paths so much throughout is mind blowing.
Remembering what you were doing with Ellie in one section while playing as Abby and realising the butterfly effect of what Ellie's view of Seattle day 1 to 3 had on Abby and her friends. It's beautiful, so cruel but beautiful.
There's some who say it's not deserving of it's plethora of game of the year awards it's racking up. There's bigots who are annoyed that the game features lesbian and trans representation. Fuck em, this game is 100% deserving of every accolade it's picking up. The writing and story is superb. The Last of us Part 2 is a game that everyone should experience.
– Murr