My little band of adventurers along with a trusty steed to carry our wares is off on their journey. We've just left a nearby town after picking up some bounties and other items to keep us healthy on the road. A local fishing spot gives me a chance to catch some more food. However, some Bandits patrolling close by put an end to that. We fight and we win. The spoils of victory are ours, some coin, a dagger, and some scraps of food. Not much, but every little helps. Back on track we start fishing and stock up on carp and get back on the road.
A few days later we stumble across a mill with one solitary resident standing guard. They inform me that there is nothing of value here. However, I notice a little trap door that can be opened with a mysterious Ornate key I found at a previous location. I poke my head through the trap door and find prisoners. Upon emerging the lady – annoyed by my discovery, and some of her cronies attack me. Once again we are victorious but wounded and feeling a little worse for wear. We carry on regardless, forging our path, and carving out our own adventure. My band of misfits getting stronger forming bonds not only with me but also with each other, with each passing day we become a better unit.
There is one thing I love in video games and that's being able to create your own stories. Whether it be multiplayer or single-player games, open worlds often allow for you to write your own tales. Wartales has that adventure feeling to it that I love. With no real main quest or story to follow from the start, you are free to do whatever you feel like.
Set off for Adventure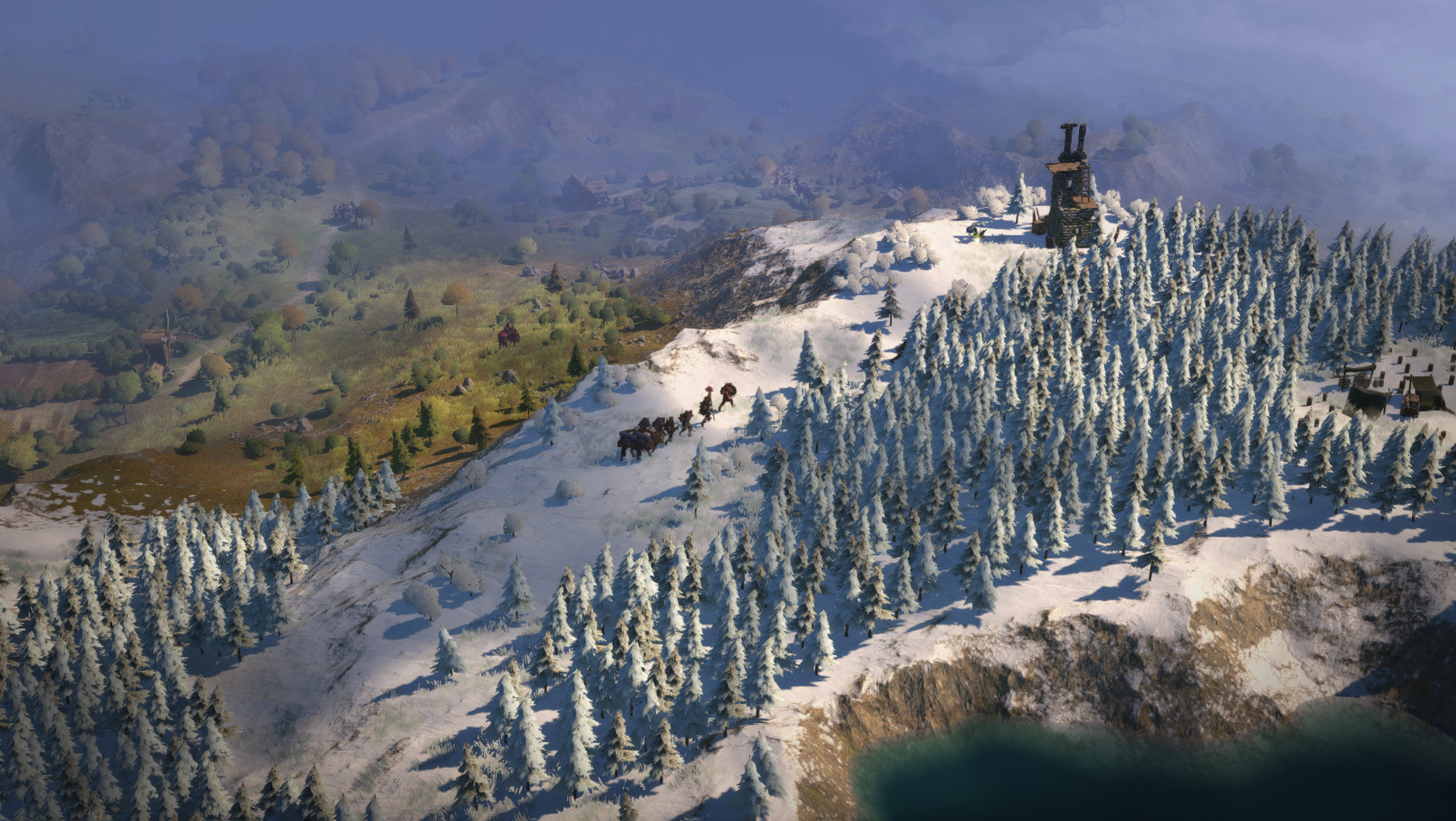 You create an initial party of people, pick what they're good at, what they look like, and their names, and then set off. There are no quest markers to point you in any direction. You can just wander off into the distance. That being said, you will want to start making some money. Therefore, heading to a town or something similar to pick up quests is always a good start. I've spent my first few hours taking on bounty contracts, fishing, or helping random people I meet. Whatever takes my fancy.
The more you explore, the more quests you will find and the more people you will meet. Stories of what is going on in the world around you start to reveal themselves and it's up to you how you engage with them. Side with farmers, soldiers, and bandits to help and hinder others. Whether you work for your own personal gain and glory or whether you want to make things better. It's up to you.
As it might sound, you can choose whether to be good or bad. However, doing bad deeds such as stealing can earn you a crime status which if it reaches a high enough level will make you wanted. Up until now, I've mostly stayed on the straight and narrow bar a few chests that 'needed' picking for their contents.
Band of Merry Men
Along your travels, you will find new people to recruit to your crew. So far I've added two to mine. But I have come across a fair few already. It's just that my budgets haven't allowed further expansion. The people you employ are basically mercenaries for hire. You have to be able to pay their wages and feed them otherwise they will become unhappy, and I assume eventually leave. Although thankfully it hasn't come to that for me just yet.
Each person in your party has their own weapons, armour, skills and perks that you can level up as they gain experience. It lets you build a party that will suit your playstyle. You can also add professions to your party members. You can therefore have dedicated fishers, blacksmiths, alchemists, and more. The more they craft and create the more proficient they become.
I love the camp mechanics where you set up your campfire with your party gathered around you when you're too tired to carry on. Here you will need to feed your gang. Additionally, you can craft items here such as lockpicks and fishing hooks. You can launder stolen goods through your secure chests that are stored in your camp. The camp makes me feel like my party is getting to know each other better, as they sit around the fire telling tales and speaking of the day's events. It feels like a little community I'm building and bringing them to life.
A world brimming with activity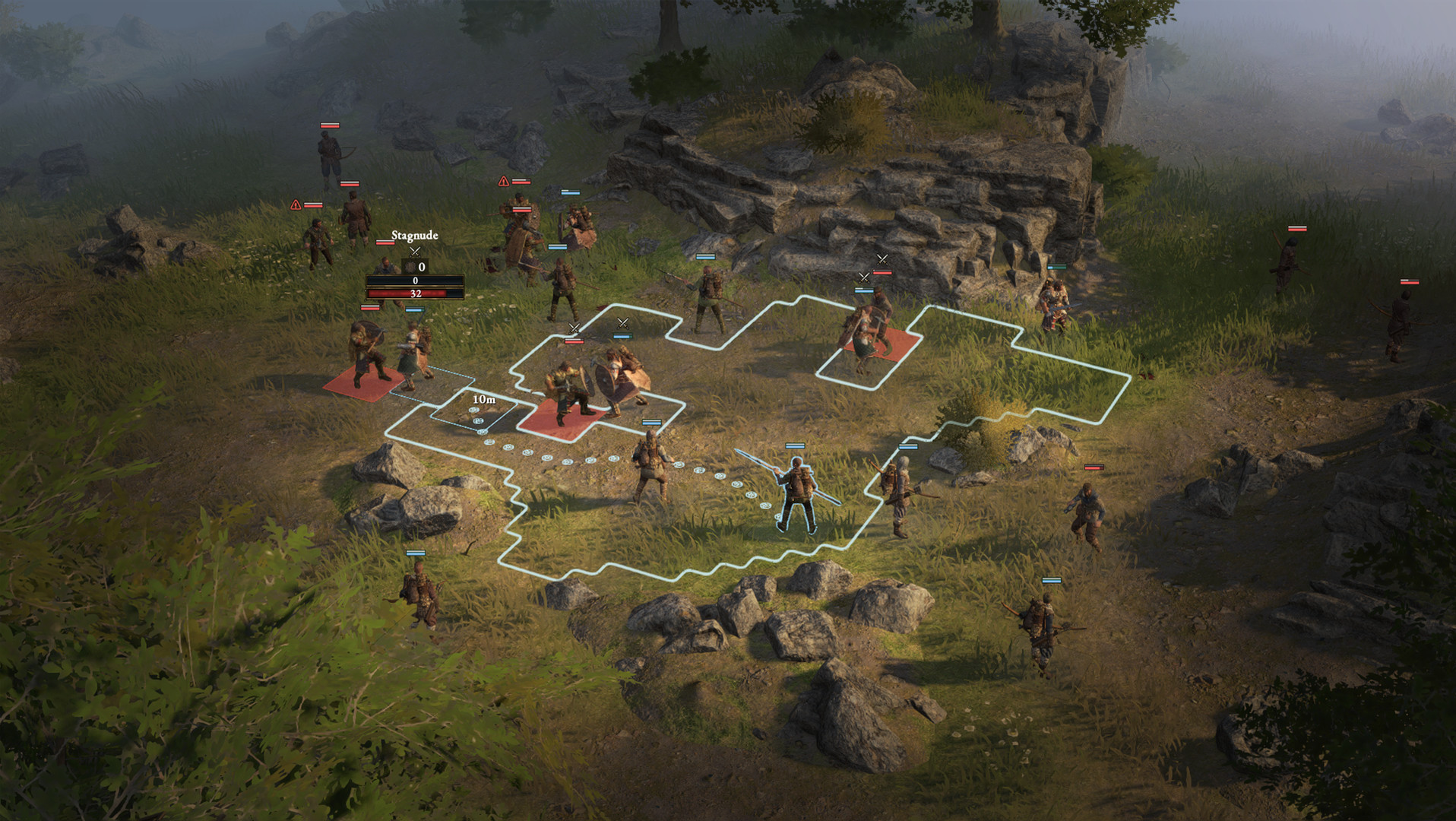 I've loved just exploring the world finding farms, mills, and other buildings along the roads to see what secrets or quests they hold. You will often come across other groups on the roads. Whether they be guards, bandits, traders, or others. You can trade with them, leave them be or fight them if you choose.
Fights are turn-based and once in a fight, you can choose where to place your characters. Allowing you to set up strategic positions or create choke points. Having your tankiest players block paths with rangers firing from the back with their arrows. Or surround targets allowing you to take them, prisoner.
I have loved the fights so far. They have been tactical and a good challenge. Scraping through a battle with your party low on health is a good feeling. I can't wait to see what other, more difficult challenges await me.
Wartales is an open-world RPG featuring turn-based combat that has been in early access for a little over a year now. It's made by Shiro Games who also made the excellent Northgard. But it only really came to my attention towards the end of last year when the announcement of a co-op update was made. Whilst I'm only playing solo at the moment, co-op is definitely something I'd like to try out. With more to come from the game as early access continues, I can see a bright future for this adventure RPG.
-Will