Tarkov-Style extraction games are going to become a lot more commonplace with the success of Escape from Tarkov. Marauders is one I've mentioned before that has now been released. It has had a very promising start to life in early access.
I actually backed Marauders fig.co which was before Team17 got involved to help with some funding and other bits and bobs. So I've been eagerly following along with progress and closed beta testing.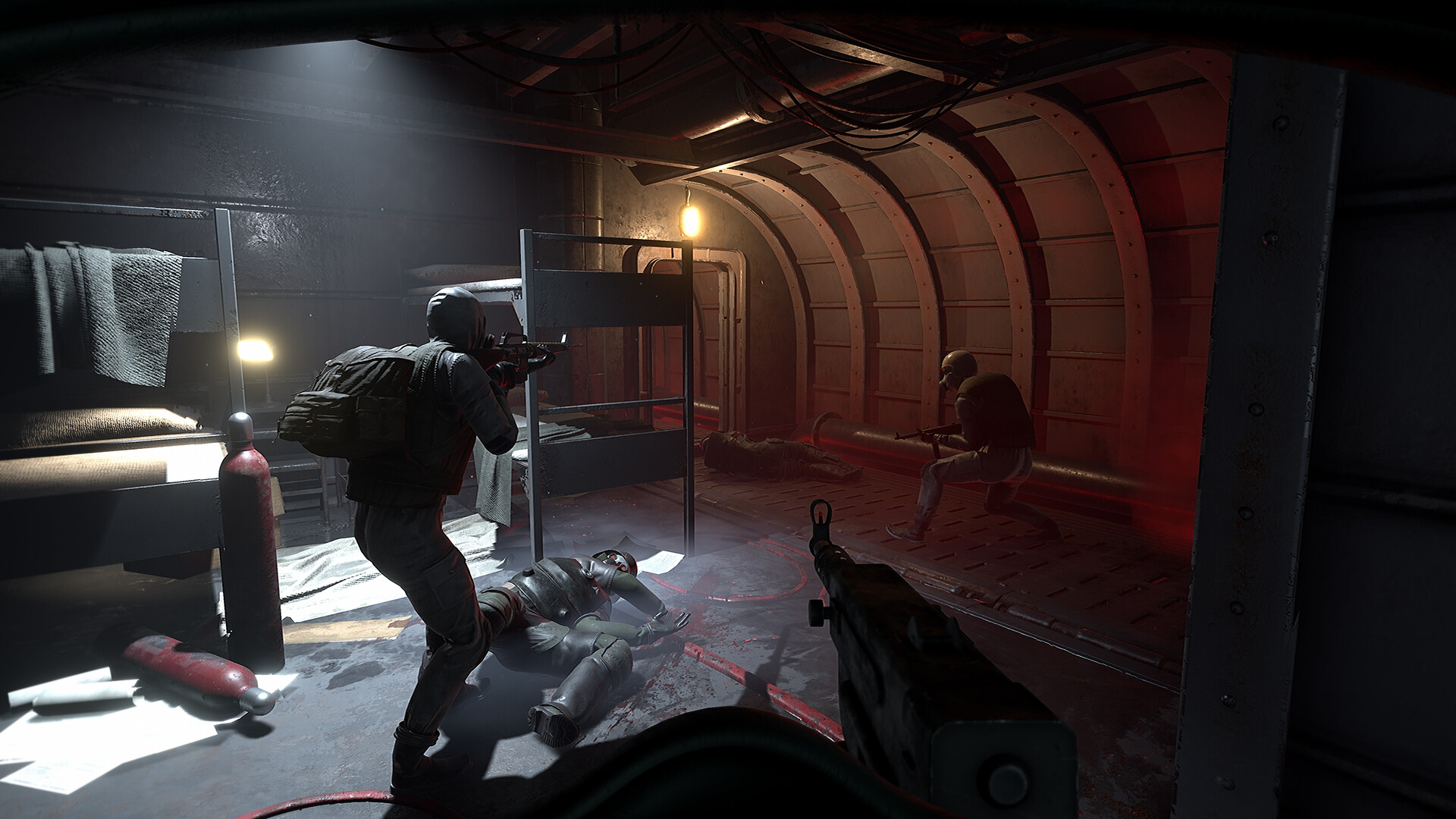 Space Pirates
Become the ultimate space pirate on your own or with 3 other players and go raiding mining stations, AI ships, or even other player ships to stock up on as much loot as possible.
Set in an alternate 1990s where the great war never ended Marauders is s retro sci-fi FPS with WW2 and WW1-era weaponry. With slightly janky guns you can team up or go it alone into raids where maps are randomised from a pool of a handful of different types.
Each map features a sort of central hub where you can land and here is where you will likely find the most and best loot. Whether it's a mining station or spaceport you will find AI enemies patrolling the areas. Each map features some unique elements such as vaults that can be opened with blow torches and other special locked areas which will need a key of some sort to open.
Obviously, all of these locations are accessible to other players as well. Expect to encounter them and fight it out in cramped corridors or dark and dingy cave-like areas. Or, if you fancy it, you can attack their spaceship as they head toward a docking point.
Prepare to be boarded
One of the more unique aspects of Marauders is that you start each raid in your own spaceship. There are multiple different types that you can unlock that have different weaponry, speeds, hull strength, etc… As you're flying towards a point of interest – a dock or perhaps an AI ship, you will also spot other players flying around in their ships. You can choose to attack them or board them.
Each ship has escape pods so if you get damaged too much you can make a hasty exit. Or you can use these pods to crash into other ships including other players. Boarding a ship will alert the players to your presence so don't expect it to be a stealthy affair. It's a really fun mechanic that sets the game apart from many others. Additionally, it's a pretty good way to get some loot and clear a path for tackling AI without worrying about too many other players. Oh and you can steal the ship and keep it if you want.
Keeping you interested
There are missions to take on for factions that will help keep you busy whilst playing. But the most interesting part is obviously around the loot. I feel like generally looting feels pretty rewarding and fun. If you clear out a station or enemy AI ship you're going to get some decent stuff. Furthermore, with the special locked areas, you can find some cool items that will sell for a decent sum of money. That being said, it's the gunplay and gameplay that are really going to keep you interested long-term. I would say it's decent but not amazing. At times it feels a little casual and silly.
But other times you have some really intense firefights. I'm certain that it will improve as time goes on though. Plus, what we have at the moment is still enjoyable.
Work in progress
Marauders is a work in progress, so there are bugs and issues with the game. It can feel a little janky at times. However, it is still a lot of fun. If you're looking for something that feels more accessible than something like Tarkov, then Marauders will definitely suit your needs.
However, if you want a hardcore more realistic game then you might find certain elements of Marauders lacking. Personally, I'd still recommend it to people who enjoy PVPE shooter games as it has a good amount to offer and will only get better as time goes on.
-Will